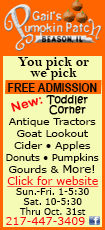 The 32-year-old is on the cover of Maxim magazine's October issue. She's sporting a bra and a big shirt in the cover photo and a fitted dress in the magazine spread.
In a phone interview Thursday, Aguilera says her daily routine includes working out -- on some days.
Says Aguilera: "If I can squeeze in a workout, great. If not, that's OK, too."
The Grammy winner adds that her 5-year-old son, Max, is also keeping her in shape: "Running around with him all day is pretty good exercise."
Aguilera will return to the fifth season of NBC's "The Voice" on Sept. 23.
___
Online: