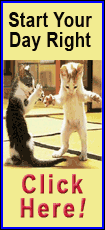 GOP Sen. John Barrasso (buh-RAS'-oh) of Wyoming, who was an orthopedic surgeon before coming to Congress, says many families "are going to have real sticker shock when they see their new insurance rates."
He says Republicans want to help people get the medical care they need, from the doctor they want, at a lower cost -- and that they only way to accomplish that is by repealing the health law.
Starting Oct. 1, people who don't have health care coverage on their job can go to new online insurance markets in their states to shop for a private plan and find out if they qualify for a tax credit.
Copyright 2013 The Associated Press. All rights reserved. This material may not be published, broadcast, rewritten or redistributed.