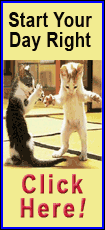 Today's highlight in history:
On Sept. 6, 1901, President William McKinley was shot and mortally wounded by anarchist Leon Czolgosz (CHAWL'-gawsh) at the Pan-American Exposition in Buffalo, N.Y. (McKinley died eight days later; Czolgosz was executed on Oct. 29.)
On this date:
In 1861, Union forces led by Gen. Ulysses S. Grant occupied Paducah, Ky., during the Civil War.
In 1888, diplomat and financier Joseph P. Kennedy, Sr. was born in Boston.
In 1916, the first self-service grocery store, Piggly Wiggly, was opened in Memphis, Tenn., by Clarence Saunders.
In 1939, the Union of South Africa declared war on Germany.
In 1943, 79 people were killed when a New York-bound Pennsylvania Railroad train derailed and crashed in Philadelphia.
In 1952, Canadian television broadcasting began in Montreal.
In 1966, South African Prime Minister Hendrik Verwoerd (fehr-FOORT') was stabbed to death by an apparently deranged page during a parliamentary session in Cape Town.
In 1970, Palestinian guerrillas seized control of three U.S.-bound jetliners. (Two were later blown up on the ground in Jordan, along with a London-bound plane hijacked on September 9; the fourth plane was destroyed on the ground in Egypt. No hostages were harmed.)
In 1985, all 31 people aboard a Midwest Express Airlines DC-9 were killed when the Atlanta-bound jetliner crashed just after takeoff from Milwaukee's Mitchell Field.
In 1991, the Soviet Union recognized the independence of Lithuania, Latvia and Estonia. Russian lawmakers upheld a decision by residents of Leningrad to restore the city's pre-revolutionary name, St. Petersburg.
In 1997, a public funeral was held for Princess Diana at Westminster Abbey in London, six days after her death in a car crash in Paris.
In 2002, meeting outside Washington, D.C. for only the second time since 1800, Congress convened in New York to pay homage to the victims and heroes of September 11.
Ten years ago: Mahmoud Abbas resigned as Palestinian prime minister. In the U.S. Open, Justine Henin-Hardenne (EH'-nihn ahr-DEHN') won the all-Belgian women's singles final, beating fellow countrywoman Kim Clijsters (KLY'-sturz), 7-5, 6-1.