Those who register before Sept. 15 will have a discounted registration of $30, which includes a Dri-Fit race shirt and finisher's medal. After Sept. 15, the registration fee will increase to $35. Shirts are not guaranteed for late registrants. Youth 12 and under can register for $10. Runners and walkers of all fitness levels and ages can register online at www.almh.org.

At 9 a.m., rain or shine, walkers and runners of all fitness levels will take off in the Moving Forward 5K Run/Walk at Madigan Park.

This is a chip-timed event. All finishers will earn medals. Prizes will be awarded to the top finishers in the following categories: overall male, overall female, 60 and over male, 60 and over female, 11 and under male, 11 and under female, and the stroller category.

"Our mission is to improve the health of the people and communities we serve, and what better way than through exercise? I hope that this event encourages people of all fitness levels to get moving forward towards good health," said Todd Mourning, D.P.T., physical therapist and manager of rehab services at ALMH.

The Abraham Lincoln Healthcare Foundation will use proceeds from the Moving Forward 5K Run/Walk to support local wellness programs.

Memorial SportsCare at ALMH is a full-service athletic training program for young athletes and active adults. Services include performance enhancement, injury prevention, concussion management, training zone programs, high-tech knee and shoulder treatment, and more.

For more information about the Moving Forward 5K event, call the ALMH Rehabilitation Department at 217-605-5500 or visit www.almh.org.
---
Lincoln Jaycees need volunteers and donations for haunted house

The Lincoln Jaycees need volunteers to help build and run this year's haunted house attraction. Volunteers must be at least 16 years of age. Materials (such as paint, nails and tools) and monetary donations are also being sought.

If you are interested in volunteering or sponsoring the haunted house, contact Chrystal at 217-871-0441.

This year's haunted house will open Oct. 11 at the Lincoln Jaycees Center, 325 S. Chicago St. For all the details, visit www.lincolnjaycees.com.

The Lincoln Jaycees Haunted House has been an annual Lincoln tradition for several decades. It is used as a primary fundraiser for other Lincoln Jaycees projects, such as the Senior Feast, Angel Tree and an Easter egg hunt.

The Lincoln Jaycees are a not-for-profit organization serving Lincoln and the surrounding communities. The organization gives young people ages 18-40 the tools they need to build the bridges of success for themselves in the areas of business development, management skills, individual training, community service and international connections. Membership meetings are at 7:30 p.m. on the third Friday of each month at the Lincoln Jaycees Center, 325 S. Chicago St., and are open to everyone.
---
Community Action utility assistance program begins
The Community Action Partnership of Central Illinois is accepting applications this month for the Low Income Home Energy Assistance Program, known as LIHEAP. Community Action administers the assistance in DeWitt, Logan, Mason, Menard and Piatt counties. The program provides a one-time benefit toward utilities for eligible households.
To qualify for the priority period of Sept. 3-30, individuals must have incomes of no more than 150 percent of the federal poverty level. Households that have seniors or disabled residents can apply.
For October, applications accepted will be expanded to include households that have families with children under 6 and disconnected households.
All other households that meet the 150 percent federal poverty guidelines will be eligible for the program beginning Nov. 1 and continuing to May 31, 2014, or until all funds are depleted.
The amount of the utility payment is determined by the household income, size, fuel type and geographic location in the state. The energy source does not have to be natural gas or electricity in order to receive assistance. Payments are made directly to vendors on behalf of the households.
Those interested in participating can contact their local Community Action office to schedule an appointment:
Logan County: 217-732-2159, ext. 226

Menard County: 217-632-3878

Mason County: 309-543-6988

DeWitt County: 217-935-2455

Piatt County: 217-762-2421
Community Action Partnership of Central Illinois serves low-income, disabled and elderly households in six central Illinois counties. For more information, visit www.capcil.org.
---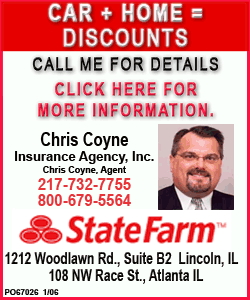 ---
Hunter safety course offered in Mount Pulaski

MOUNT PULASKI -- A hunter safety course will be offered in Mount Pulaski on Sept. 13 and 14. Sessions will be from 6 to 10 p.m. Friday and 9 a.m.-3 p.m. Saturday.

For reservations, call 217-792-5658 (10 a.m.-8 p.m. -- leave call-back number if leaving a message on the answering machine).

Lunch will be served on Saturday.

Study pamphlets will be furnished by Illinois Department of Natural Resources.

Those attending under the age of 16 must be accompanied by a person 16 years of age or older.

No live ammunition will be allowed. If live ammunition is found on a participant, the person will be asked to leave without taking the test. You will be able to take the test at a later date.
---
Humane Society of Logan County to offer classes for investigators

The Humane Society of Logan County is offering classes to prepare individuals interested in becoming licensed humane investigators.

Applications will be accepted until Thursday, Sept. 26. The Illinois Department of Agriculture is testing on Wednesday, Nov. 13.

Humane investigators sponsored by HSLC respond to calls from the public who believe an animal is being abused or neglected. The investigator's response to the call is based on the Illinois statutes regarding that particular situation. Investigators are licensed for two years and work on a volunteer basis.

If interested or for more information, call 217-648-2703 or 217-737-4042.
---
Lincoln Low Vision Support Group to meet Monday

The next meeting of the Lincoln Low Vision Support Group will be on Monday, Sept. 9, from 1 to 2 p.m. at Lincoln Christian Church, 204 N. McLean. Use the door off the parking lot, under the canopy.

The speaker will be John Corneille, a blind attorney from DeKalb. He is a member of the board of Foundation Fighting Blindness and his mother lives in Lincoln.

Those attending are welcome to bring guests.

For more information, contact Sandy at 732-6528.
---
Bonanza Steakhouse to honor first responders

Free buffet Sept. 11 for active first responders

To commemorate the anniversary of Sept. 11, 2001, the Borst Bonanza Steakhouse at 1121 Hickox Drive in Lincoln will offer a free buffet on Sept. 11 to all active fire, police, and emergency medical personnel in uniform or with an ID badge.

"Our entire steakhouse team wanted to honor the heroes of 9/11 and also show appreciation to our own community's first responders who demonstrate courage every day by risking their lives to save others," said Brett Borst.

The Bonanza Steakhouse has been owned by the Borst family for 30 years. The restaurant features a buffet with a large variety of "all you can eat" salads, soups, appetizers, vegetables, breads, hot main courses, and desserts, as well as flame-grilled steaks, chicken and seafood.
---
'Prayer in the Park' at noon Sept. 11

On Sept. 11 at noon, a group will gather at the bandstand in Latham Park to spend a short time in prayer for the physical and spiritual needs of Lincoln and Logan County.

The group would like to pray for answers that we are desiring to see in our community, churches, schools and local government. The focus will be on thanksgiving and the plans God has for this community to bring His wisdom, opportunities for growth and also healing of hearts, lives, businesses and relationships.

The public is invited to join this short time of prayer.
---