LC cross country results
Send a link to a friend
[September 11, 2013] CHARLESTON -- The Lincoln College men's and women's cross country team competed over the weekend at the Walt Crawford Open, hosted by Eastern Illinois University. Sixteen teams were represented at the meet, including six teams from Division I schools. The LC men's team placed 10th while the women placed 13th.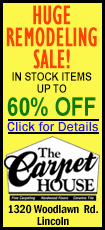 The LC men were once again led by John Davis. He placed 82nd overall. The others running in the top five for the Lynx were Joel Flores, 87th; Josh Montgomery, 91st; Zach Humphries, 108th; and Chris Steward, 108th.

The women were led by Kaiyla Brooks. She placed 101st. Rounding out the top five for LC were Akiya Thompson, 122nd; Lizzy Herzog, 129th; Teandria Bouliox, 131st; and Martina Hodge, 138th.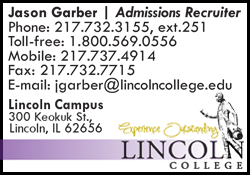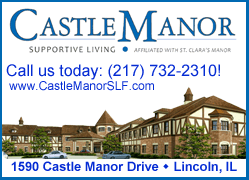 Coach Herron commented: "This was a very tough meet for us. Only one of my guys had raced a 5-mile race before today. There is a huge difference from racing 3 miles to moving up to 5 miles. The women are also had to adjust to a longer race from the previous week. Once everyone gets used to racing the longer distances, there is no doubt in my mind that there will be significant improvements in time. We just have to stay positive and keep working hard. This is a very young team, and I know we will get much better as the season progresses."
[Text from file received from Jeff Nelson, Lincoln College sports information director]