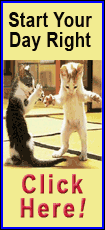 "The pain and feeling is unexplainable," the 25-year-old Winston resident told the Roseburg News-Review (http://bit.ly/15SQWxm) on Tuesday. "I am really fortunate to be here today and come home to my family."
Thunderstorms had been off in the distance for a few hours last Thursday morning, Jones said, and then all of a sudden, the storm was all around the loggers.
Jones said he was holding onto a steel choker line, a cable used to haul logs.
"I remember the pain and feeling I had. I tried to release it, but my hands wouldn't work," he said. "I was finally able to drop it. Then, I don't remember much."
His co-worker was 42-year-old Steve Hagar of Drain.
"There was a big crack and flash in the sky, then Ricky was convulsing and fell to the ground," Hagar said.
Hagar said it took Jones two to three seconds to release the line. "It was amazing he was able to drop the choker," he said.
Jones regained consciousness but was having chest pain. An ambulance took him to Coquille Valley Hospital in Coos County. Doctors found the toxins in his body were double the normal amount.
"I just have to flush it out, drink a lot of water," Jones said. "Lightning bolts can have long-lasting side effects, like kidney failure, seizures and your heart can explode. I hope none of that happens."