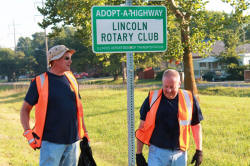 Lincoln Rotary Club takes time to clean up road

Send a link to a friend
[September 13, 2013] On Saturday, Sept. 7, the Lincoln Rotary Club along with Lincoln College's Rotaract Club took time out of their busy schedules to get up early and clean up Business 55 from Fifth Street to Eaton Corp. Rotaract is a club sponsored by Rotary for college-age students.
The Lincoln Rotary Club adopted this stretch of road years ago, and about three or four times a year they gather to pick up garbage from the ditches and roadside.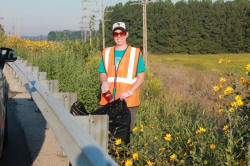 "It can be dirty work at times, but we all really enjoy getting together and serving our community," says Marcia Greenslate, president of Lincoln Rotary Club.
Last weekend the group collected around 15 large garbage bags full of debris from the roadside.