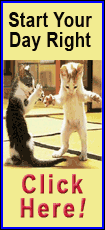 Joe Clark, Canada's prime minister in 1979, made the remarks at a screening of the documentary "Our Man in Tehran" at the Toronto International Film Festival on Thursday night.
"Argo" came under criticism from some Canadians, including former ambassador Ken Taylor, who said he felt slighted by "Argo" because it makes Canada look like a meek observer to CIA heroics.
One year after "Argo" premiered at the festival, Taylor debuted his own account of the high-risk caper. Taylor says the documentary offers "a very true" look at Canada's role in rescuing six U.S. citizens during the crisis.