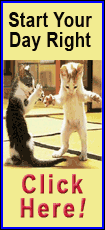 "You need to pull back. It's difficult and it's difficult during a launch but I'm fierce about it," she said during a recent interview. "I don't feel bad about it. You can't apologize."
It's this kind no-nonsense talk, with a crackling wit to boot, that made the 42-year-old a breakout star on Bravo's "The Real Housewives of New York." She got a spinoff show on the network, became a best-selling author; lifestyle guru; cocktail, snack bar and sweetener seller; and now TV host.
At a recent taping of her syndicated show, which debuted Monday, it's evident that "Bethenny" is part of Frankel's brand. Segments correlate with the lessons in her books, including one called "Bethenny's Solution Revolution" that helps find fixes to everyday problems. Her latest book, "Skinnygirl Solutions," also dispenses advice and anecdotes to navigate life the Bethenny way. Carving out "me time" is one of them.
"Even a mom who has got to get to the car pool, get her hair done, is pulled in 20 different directions, if she doesn't pull back she's gonna be a mess and do all those things terribly," she said.
Frankel is aware there's a lot riding on her new venture but preserving her sanity is crucial.
"The truth is it does have my name on the door and there are people who chose to work on this show versus other places and this is their job," she said. "Sometimes people are pulling me, 'Do this interview, do that, we have to do that.' And I'll say, 'No. I need to take a five-minute break because I need to be good on that show and give that audience what I owe to them, otherwise none of us are gonna have jobs.'"
At the taping in New York, audience members made up of fiercely loyal Frankel followers seemed to hang on to her every word. The staff around her buzzed with excitement and danced during commercial breaks.