Elaine Awe, owner and manager of the restaurant, said that she and her staff wanted to do this as a means of thanking all farmers for what they do. As she said, "Without them, we wouldn't have food."

Awe said the restaurant mailed out approximately 500 personal invitations to Logan County farmers, using a mailing list she obtained from Jim Drew at the Logan County Farm Bureau.

The breakfast began at 6:30 a.m. and ran through 9:30, with a regular stream of folks coming in during that time. The breakfast was a "serve yourself," "all you could eat" meal with eggs, bacon, sausage, fried potatoes and, of course, plenty of coffee.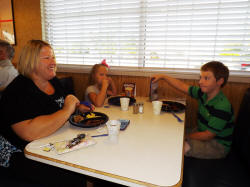 Awe said the breakfast was only a part of the celebration going on right now. In addition, the restaurant is featuring area farm families on their board behind the service counter. Thus far they have had the David Opperman family and the Randy Pech farm on the board, and they are hoping to have enough to keep the board running and changing every week or two for quite some time.
In honoring farmers and the farming industry, the restaurant is also doing some fundraising for the Lincoln High School Future Farmers of America. From now until Wednesday, Sept. 25, restaurant patrons can drop their dollars or change into the "Kiss a Pig" contestant jars, with the funds going to FFA.
On the 25th, the person whose jar has the most money collected will literally kiss a pig. With five locally known people's jars to choose from, you're sure to find one you want to support. There is one for each: Awe, Mayor Keith Snyder, Lincoln/Logan Chamber director Andi Hake, LCHS FFA director Dr. Penny Hasse-Wittler and the last one for local real estate agent Seth Goodman.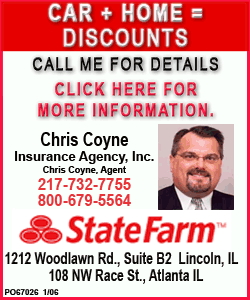 At 7 p.m. on Sept. 25, the pig will be present, the winner will be announced, and the snout smooching will occur.
Awe said it looks like right now her employees are on an all-out campaign to get her to the kissing booth, so she is hopeful there will be others in the community who would like to see Snyder, Hake, Hasse-Wittler or Goodman pucker up. Regardless, she said it would be all in good fun and serving a good cause.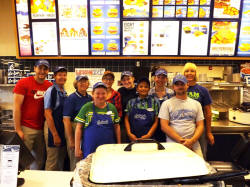 "We just want to say thanks to our farming community with these special events," Awe said, "and we also want to show our support and raise awareness for the FFA, and we hope others will join us."
[By NILA SMITH]