REVIEW
MGMT remains unpredictable on 3rd album
AP review by Sian Watson
Send a link to a friend
[September 19, 2013] ATLANTA, Ga. (AP) -- MGMT, "MGMT" (Columbia)
Leave your preconceptions at the door -- the new self-titled MGMT album is worlds apart from the group's debut "Oracular Spectacular" and 2010's "Congratulations."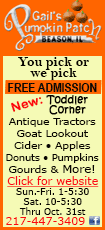 Gone are the days when the Connecticut boys sing of models and drugs. "MGMT" is dark. The melody on the record's debut single "Your Life is a Lie" is uplifting with cow bell added to up the tempo. But the lyrics are cutting. "Count your friends on your hands, now look again, they're not your friends," lead singer Andrew VanWyngarden sings with an Eels-esque sardonicism.
Lead-off song "Alien Days" is as close to the old MGMT material as you're going to get. It opens disconcertingly, with strange female vocals, and then drifts into a lazy, slow drum beat and guitar strum. VanWyngarden wryly distorts his voice when singing, "I love those alien days."