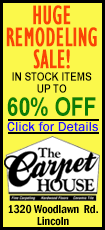 The behemoth 57,600-square-foot (5,350-square-meter) space inside the West Hall of the Los Angeles Convention Center has been transformed into an enchanted forest for the official after-party of Sunday's 65th annual Primetime Emmy Awards.
A series of giant stylized purple and green trees will hang above the 3,800 invitees while a staff of about 1,200 supply drinks and hors d'oeuvres to 400 guest tables, each featuring a unique flower arrangement. The massive room will be cocooned by 36-foot(11-meter)-tall curtains featuring 2,400 twinkling starlit-inspired bulbs.
"Dressing this cavernous hall is a challenge every year," said Russ Patrick, chair of the Governors Ball committee. "We always wonder how we can match or top last year's effort, and we think the visual impact this year will be very impressive."