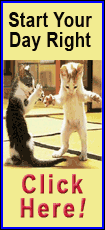 Airport improvements
Airport chairman Gene Rohlfs reported that everything is moving forward for this year's Logan County Airport capital improvement plan. This year's plan calls for new runway and taxi lighting systems, a bigger windsock and light, and some other upgrades at the airport. The cost of $481,925 for the lighting project is mostly picked up by the federal government's Department of Transportation, with matching funds supplied by state and county. The state's share would be $21,974 and the county's part would be $25,633.
Cat and dog sale
Logan County Animal Control is having a big sale on cats and dogs. That's right, the take-home price on pets is being reduced for a couple of months to help save more lives.
Cats will be $35; dogs will only be $50. Animal control chairman Kevin Bateman said this is a $35 discount on the fee for both the cats and dogs. Bateman said the $35 is what it costs the county to euthanize an animal, so you will be saving a life and saving money.
The sale begins Wednesday (today) and goes to Nov. 13.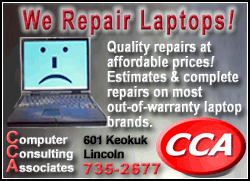 Bridge repairs
Bridge repairs will be coming for Corwin Township at $8,500 and the Elkhart Road District at $8,000.
Report completed on how to save energy
Jan Schumacher announced that she had just received a custom report on how the county could save more energy. The extensive, 50-page report from the SEDAC group is on how to save energy and money at the safety complex. A past assessment led to a grant and new windows for the Logan County Courthouse.
Schumacher said the new report is pretty impressive, and she encouraged board members to look it over when they have time.
Hazard Mitigation Night
Emergency Management Agency director Dan Fulscher urged people to attend a "Hazard Mitigation Night." The information to be presented is an important part of this project. The public portion is scheduled for 5-7 p.m. Oct. 17 at the Lincoln Park District complex on Primm Road.
Fulscher said the state of Illinois has been allocated about $25 million in federal funds. He said itís great to have a plan in place, but you need to learn the process for requesting the money. He added that it looks like about 160 projects have been submitted, coming from seven communities in Logan County, and there are several projects that look like they could be approved.
"Remember that up to 75 percent of the funding could be provided in any one of these projects," he said.
"What is important now is that everyone learn the procedure on how to ask for the money," Fulscher emphasized.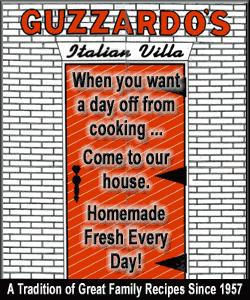 Great festival, nice parks
Terry Carlton expressed his appreciation and compliments to county employees Hector Castro and Dennis Reves for the fine job they did cleaning parks and painting in preparation for the Art & Balloon Festival. City of Lincoln crews helped a lot too.
"They did a nice job of making everything look great," Carlton said.
He said the festival brought a lot of people to town and the streets were filled with people.
Golfing at night
The second annual golf outing fundraiser for the Lincoln & Logan County Development Partnership has been set for Oct. 11. The after-dark event was a lot of fun last year, with glow sticks on people and outlining the golf carts. The event is $50 per golfer. Information is available on both the development partnership and chamber of commerce websites.
[By JAN YOUNGQUIST]
Register for golf outing:
Lincoln/Logan County Development Partnership:
http://3rdwire.net/LLDP/
Lincoln/Logan County Chamber of Commerce:
http://www.lincolnillinois.com/
Learn more about energy-saving programs:
The Smart Energy Design Assistance Center, or SEDAC, provides valuable services at no cost to Illinois businesses and public facilities. It is an applied research program at the University of Illinois at Urbana-Champaign, working in collaboration with the 360 Energy Group and the Energy Resources Center at the University of Illinois at Chicago.
The program is sponsored by the Illinois Department of Commerce and Economic Opportunity in partnership with Illinois investor-owned utilities to achieve energy efficiency savings in buildings throughout the state of Illinois.
SEDAC provides advice and analyses enabling private and public facilities in the state to increase their economic viability through the efficient use of energy resources.
Find more information on conferences and assistance from SEDAC at http://smartenergy.illinois.edu/
training-and-outreach.html.