DAR marks beginning of a new year
Send a link to a friend
[September 19, 2013] Saturday, Sept. 14, marked a new year of programs for the Abraham Lincoln Chapter of Daughters of the American Revolution.
The group met for lunch at the Stagecoach Grill in Middletown, then proceeded to the Middletown Stagecoach Inn for their meeting. They were greeted by Rick Deters and Ina Dambacher, who gave a tour of the inn and shared some interesting history on Middletown and the surrounding area.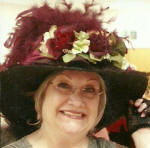 The meeting was led by the new regent, Jane DeWitt.
The October meeting will be at the McLean Library, with Susan Kirby as the guest speaker, talking on the Underground Railroad. Lunch will be catered by Subway.
All members who will be attending the District V meeting on Saturday, Oct. 26, at the Jacksonville Country Club are reminded that the reservation deadline will be Oct. 11. The cost is $20, and there will be a breakfast bake sale before the meeting. For reservations, call Linda Churchill, treasurer, at 735-3728 as soon as possible or email her at mustardmoon@comcast.net.