LC volleyball results
Send a link to a friend
[September 20, 2013] Wednesday evening the Lincoln College volleyball team fell in three sets, 16-25, 23-25, 21-25, to nationally ranked No. 9 Lincoln Land Community College.
LC match totals:
Destiny Adkins: 5 kills

Jordan Michaels: 6 set assists, 3 points

Latasha Fizer: 5 kills, 4 digs

Morgan Lesher: 4 kills, 6 points

Jenna Harcharik: 4 kills

Jessa Coker: 7 set assists, 4 points
LC coach Mark Tippett commented: "Our team played hard tonight, and we never gave up against a quality opponent. The difference in the match was really our inability to side out against their strongest server. She had a decent jump serve that caused a lot of problems for our serve receive. Other than those few rotations, I felt as though we played right with them and showed improvement in all areas of the game. Two weeks ago we played a top 10 team at Parkland, and the outcome was not nearly as close as it was (Wednesday) night. This shows that we are going in the right direction as a team."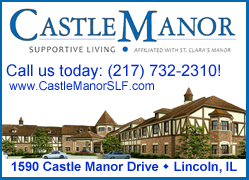 The Lady Lynx are now 7-8 on the season and 1-2 in region play.
Lincoln hosts Rend Lake College for another region match Friday evening. Due to the long travel time for Rend Lake, the match will start at 5 p.m.
[Text from file received from Jeff Nelson, Lincoln College sports information director]