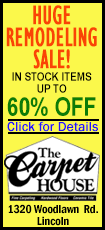 The usual venue for the theater productions at the college is the main stage at the Johnston Center for Performing Arts. That will not be the case for "The Tempest." Director Kenneth Kendall has chosen to present the play outdoors at the Creekside Environmental Center, an easy 5-mile drive north of Lincoln. Creekside is the site for environmental studies at the college.

"The Tempest" was written in 1610-1611 and is considered to be the last play that William Shakespeare wrote without collaboration. It tells the story of Prospero and his daughter, who have been stranded for years on a deserted island, sent there by usurpers to the throne of his country. Prospero uses his powers as a wizard to create a storm, the tempest, to force a passing ship filled with his enemies to land on the island. What ensues is a powerful play about revenge, redemption and love.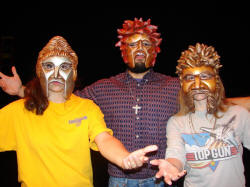 The gods Ceres (Lauren Stanfield), Juno (Bobby Wilhelmson) and Iris (India Stoddard) welcome theatergoers to "The Tempest."
"The Tempest" will be presented Oct. 2-6. The performances will begin Wednesday evening and continue through Saturday with curtain at sunset, 6:30 p.m. The Sunday performance will be a 2 p.m. matinee.
Spending a cool fall afternoon or evening at Creekside will be a unique theater experience. Professor Dennis Campbell, Creekside site director, is helping with the preparations. Not only is the stage unusual, but the staging will feature an imaginative use of green lighting.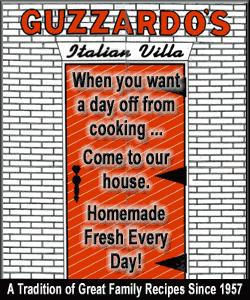 All of the shows will begin on a diamond-shaped stage in the field on the west side of the classroom buildings at the Creekside site. As the sun sets, lighting will be provided by torches and solar lights -- thus the green lighting. Once the production is underway, the cast will spill off the stage and mingle with the audience. This is going to be a memorable event.
The Creekside site will be open one hour before the show begins. Theatergoers are encouraged to bring their own chairs or blankets to sit on. Attendees can bring a picnic supper if they want, although alcohol is not allowed on the site. Also, because of limited parking, carpooling is suggested. Directions to Creekside will be on the Lincoln College website, and signs will be posted showing the way.
Tickets will be available at the Lincoln College box office. Call 217-732-3155, ext. 280. Tickets will also be available at the Creekside Environmental Center before each performance. Ticket prices are $5 for the public and $1 for students.
In case inclement weather pops up, the play will be moved to the open-air classroom at Creekside. If rainy weather is forecast earlier in the day, the show will be staged in the Johnston Center on the LC campus.
[By CURT FOX]