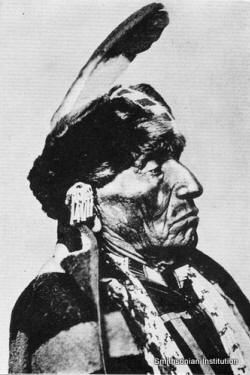 ON LINCOLN'S MIND
A plea for help from the frontier

Send a link to a friend
[September 21, 2013] SPRINGFIELD -- Leading up to the 150th anniversary of the Gettysburg Address on Nov. 19, the Abraham Lincoln Presidential Library and Museum will feature one letter each week to or by Lincoln, written between the end of Battle of Gettysburg on July 3, 1863, and his famous speech. Each letter represents one of the many issues he had to face as chief executive of the nation during its greatest crisis.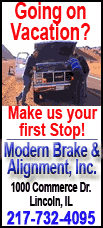 In the Civil War years, another potential powder keg for Lincoln was the growing tension between the federal government and Native Americans on the frontier. The federal government paid relatively close attention to its relations with Native Americans before the war, but the rebellion in the South drew Lincoln's attention away from the West. As a result, the often-corrupt federal Indian agents were free to abuse their power even more than during peacetime, while the Native Americans they were supposedly assisting grew increasingly frustrated. Placed in federally supervised reservations, many of these tribes depended on the government for food and supplies. Any dip in this support could cause serious repercussions.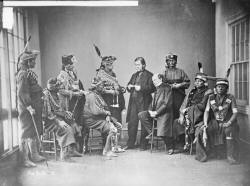 This tension showed itself most notably in the Dakota rebellion of 1862, which resulted in the largest mass execution in American history. However, resentments simmered in tribes all over the frontier. In the petition linked below, several leaders of the Kaw tribe in Kansas sought compensation from Lincoln for items stolen from or promised to them by the federal government. Typically, such calls went unanswered during the war, as Lincoln simply did not have time to address them thoroughly.
Petition of Is-tata Sin and others to Abraham Lincoln, July 17, 1863 (PDF)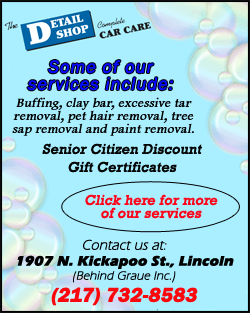 As the Kaw petitioners indicate, 70 of their tribesmen had enlisted in the Union army. Nevertheless, this call for assistance appears to have gone unanswered. Shortly after the Civil War, the federal government had to allocate emergency funds to stave off starvation among the Kaws. In 1872, the government removed the tribe to Oklahoma to make room for white settlement on their lands in Kansas.

___
To see one of only five copies of the Gettysburg Address in Lincoln's hand and receive a free booklet titled "On Lincoln's Mind: Leading the Nation to the Gettysburg Address," containing this and other document stories, visit the Abraham Lincoln Presidential Library and Museum between Nov. 18 and 24.
[By the editors of the Papers of Abraham Lincoln. Text from file provided by the Abraham Lincoln Presidential Library and Museum and received from the Illinois Historic Preservation Agency]