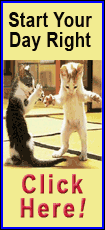 Her victory Sunday honored her for a portrayal of the cynical Selina Meyer in the send-up of modern-day Washington.
Louis-Dreyfus has now won more Emmys for "Veep" than she did in two roles that reached a wider audience. She won best actress in a comedy in 2006 for the CBS series "The New Adventures of Old Christine." She won a supporting actress award in 1996 for playing Elaine Benes in "Seinfeld."
Copyright 2013 The Associated Press. All rights reserved. This material may not be published, broadcast, rewritten or redistributed.