[September 23, 2013]

Send a link to a friend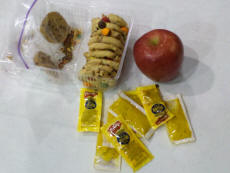 During the workday, lunches were provided to the work crews, thanks to a group of volunteers at Jefferson Street Christian Church and donations of food and other supplies from various Lincoln businesses.
Koni Lovett, captain of the kitchen crew, explained that for the meals that would be carryout or delivery, there were stations involved, including the groups preparing the sack lunches, volunteers taking orders over the phone and others getting the orders boxed up. Lovett said the group put together sub sandwiches with meat and cheeses provided by Lincoln IGA. They also had donations of bottled water, and some of their members provided homemade cookies.
At the end of the day, Dustin Fulton, pastor at the church, reported that the kitchen crew had assembled 457 sack lunches. He said they therefore had estimated there were approximately 500 volunteers at this year's event, because they knew some of the crews turned down their lunch so others could eat.
Of all the food on hand, Fulton reported that at the end of the day, there were just 10 cookies, seven packets of mustard and one apple left.
Pictures by Nila Smith