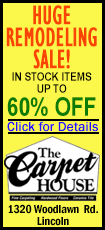 The Old House Society has been a Bloomington institution for 34 years. It started as a social group whose membership got together to discuss restoration of old and historic houses. They saw old houses being demolished with no attempt to save valuable parts to be repurposed by people who were restoring houses. The group decided to start the Old House Society as a registered nonprofit tasked with saving parts of houses before they ended up in a landfill.

From that beginning, the Old House Society has grown into a large undertaking with a 6,000-square-foot warehouse containing everything the staff and volunteers have been able to save when they are allowed to access a house scheduled for demolition. The warehouse in Bloomington is stocked with flooring, doors, headboards and fireplace tile, just to name a few items. They also have a large store of hardware from old houses.

But the Old House Society is much more than a repository of unique and hard-to-find items for restorers.

People who are demolishing houses and give parts to the Old House Society become eligible for significant tax credits, up to $5,000. In addition, the society gives grants to those restoring old houses, and members receive a 10 percent discount at the store.
The Old House Society also gives clinics at their warehouse, at 214 E. Douglas in Bloomington. People seeking to restore can learn the skills necessary to bring their old house back to its original glory.
Walden also pointed out that they have a "Second Thursday" event each month. Wine and hors d'oeuvres are served at a house that is undergoing restoration, including an on-site tour of a work in progress.
Completed restorations are given a "Gift to the Street" award in the form of a bronze plaque that can be placed on the house, noting the original construction year.
The Old House Society also offers a helping hand to other nonprofits that can benefit from their expertise.
The society's annual house tour sells out every year. It has become such a popular event in Bloomington that tickets are being limited this year to 1,000.
The organization also loans items from their inventory to schools that want to use them in plays and class presentations.
The society will also sell non-architectural items they salvage from houses, and all of the proceeds are given to the owner.
Walden pointed out that many of the old house items they sell go into new houses, not just restorations. There is a growing trend to incorporate old items into new houses to give a new home the feel of an old one. Pocket doors, doors, headboards and windows used for wall decoration are especially popular.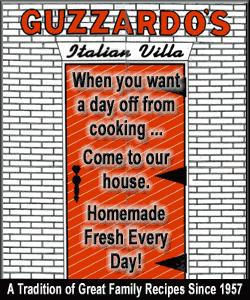 The Old House Society operates in a large area of central Illinois, not just Bloomington. They will go to the Peoria area and locations east of Bloomington. They maintain additional storage space in Lexington.
With all of their activity, Walden said that getting the word out about the Old House Society is still a problem. People tearing down old houses may not know about the society, or they may think that their soon-to-be-demolished house may not have anything worth salvaging.
Walden begs anyone thinking about demolishing a house to contact the Old House Society and let them make the call on items worth saving. When the society hauls off items worth saving and reusing, they save homeowners the cost of having these items hauled to the landfill, and also save landfill space.
"The Old House Society was into recycling before it became popular," Walden said.
Walden herself lives in a tiny 1859 house that she restored in Lexington. "I have also restored several old houses in Bloomington," she said. In fact, that is how she became familiar with the Old House Society. She bought items from them for her own projects. One thing led to another and now she is head of the organization.
Her personal doorknob collection was on display during her presentation in Lincoln.
"I even frequent pawnshops trying to find vintage doorknobs I can't do without," she said with a laugh.
Walden wants to get the word out that no house should be demolished before the owner contacts the Old House Society. Their experts can spot parts of houses worth saving, even if an owner may not see an architectural gem. They can see a door worth saving that is lurking under five coats of paint. A complete spiral staircase may be their most unusual item in inventory now. Her story of how that was removed intact from a house was an adventure in itself.
The Old House Society is headquartered in Bloomington at 214 E. Douglas. The phone number is 309-820-0548, and the website is www.oldhousesociety.org.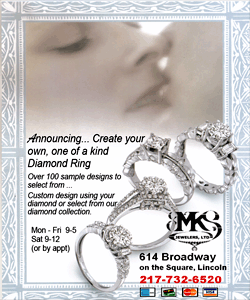 The Logan County Genealogical & Historical Society, which hosted Walden's presentation in Lincoln, meets monthly on the third Monday at 6:30 p.m. at their research facility on Chicago Street. Volunteer members also provide research for people from all over the United States who may have had relatives in the Logan County area. The group is currently working on a request for research from a person in Salt Lake City. The nominal fee they charge for this research goes into maintaining their research facility and a growing collection of Logan County historic artifacts.
[By CURT FOX]