Illinois American Water to flush lines

Send a link to a friend
[September 20, 2013] Illinois American Water will conduct water main flushing in Lincoln beginning Monday, Sept. 23, as part of regular maintenance. The routine work is being done as part of an annual water main flushing program that improves customer water service by flushing or cleaning mineral deposits and sediment from the water mains. Flushing will be during daytime hours, between 7:30 a.m. and 3:30 p.m. Monday through Friday, and will continue through Oct. 3.
The anticipated flushing schedule for Illinois American Water's Lincoln District is:
Monday, Sept. 23 -- East of railroad tracks to Pulaski Street.

Tuesday, Sept. 24 -- East of railroad tracks from Pulaski Street to Keokuk Street..

Wednesday, Sept. 25 -- East of railroad tracks from Keokuk Street to Lincolnwood, including all of Mayfair.

Thursday, Sept. 26 -- Between railroad tracks and Union from Decatur Street to Feldman Drive.

Friday, Sept. 27 -- Between Broadwell Drive and Seventh Street.

Monday, Sept. 30 -- Between Seventh Street and 16th Street.

Tuesday, Oct. 1 -- Between 16th Street and Feldman Drive.

Wednesday, Oct. 2 -- West of Lincoln Parkway from Fifth Street to Woodlawn.

Thursday, Oct. 3 -- West of Lincoln Parkway on Woodlawn to Interstate 55.
The water main flushing will be performed by Illinois American Water crews. They will be working out of white utility trucks labeled with the company logo. All employees will also have photo ID badges.
No interruptions in water service will occur as a result of the work. Illinois American Water advises that when crews are flushing nearby, customers may experience a slight drop in water pressure or discoloration of their water.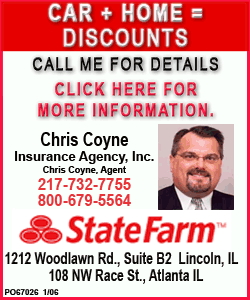 Illinois American Water does not foresee incidences of discoloration, but if this does occur, it is recommended that customers let their cold water run to clear before using it again, and refrain from doing laundry during that time. If problems persist, notify Illinois American Water's customer service center at 1-800-422-2782 (available 24 hours a day).
"The flushing program is designed not only to maintain a high quality of water in the Lincoln distribution system, but to inspect and operate fire hydrants to assure they are in good working order as well," said David Schonauer, operations superintendent for the Lincoln District.