Gary Simpkins, in the guise of Abraham Lincoln, tries his hand at geocaching.

Tourism to host geocaching kickoff party this weekend

Send a link to a friend

[September 24, 2013] Are you ready for a treasure hunt? The Abraham Lincoln Geocaching Trail in Logan County will officially "go live" at 9 a.m. Saturday, Sept. 28.

There will be a kickoff party in Memorial Park -- rain or shine -- from 9 a.m. to 2 p.m. to celebrate the new trail. The free event is open to everyone of all ages, whether or not they are knowledgeable about geocaching.
The party will begin with a 9 a.m. ribbon-cut. Tom Hankins of the Central Illinois Geocaching Association will be available to explain more about the sport.
Lincoln resident Marge Ott, who drew the designs for the cache cards, will be on hand to sign autographs. Children ages 10 and younger can participate in a free old-fashioned pumpkin hunt for door prizes. Refreshments will be served.
Geocaching is a modern-day treasure hunt that relies on global positioning system units or GPS-empowered phones to find containers known as "caches." The six caches on the new trail will contain cards that can be redeemed for souvenir postcards.
The new Logan County trail has caches hidden at sites that relate to Abraham Lincoln and his relationship to communities throughout the county.
Typically, a cache is a waterproof container with a logbook where the geocacher can enter the date the cache was found and their established code name. Then the cache must be replaced exactly as it was found.
Hunters can also register their finds at an official geocaching website, www.groundspeak.com. Groundspeak offers free membership, although users have the option of purchasing premium memberships.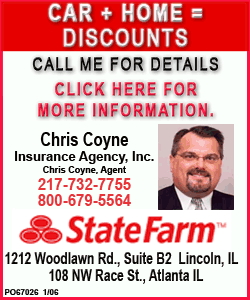 Groundspeak's website claims millions of caches and members in more than 200 countries. The international sport even extends into outer space, with a cache aboard the International Space Station.
The Abraham Lincoln Geocaching Trail in Logan County was made possible through funding from the Looking for Lincoln Heritage Coalition with support of the Abraham Lincoln Bicentennial Foundation, dedicated to perpetuating and expanding Lincoln's vision for America and completing America's unfinished work. Matching funds were made available by the Abraham Lincoln Tourism Bureau of Logan County.