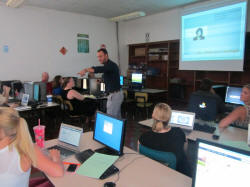 NH-M teachers trained in use of Google apps
Send a link to a friend
[September 26, 2013] MIDDLETOWN -- On the first early dismissal of the school year, New Holland-Middletown Elementary District 88 staff received training on the use of Google apps and Google Chromebooks in the classroom.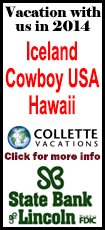 Training was conducted at NH-M by Dominic Manola of Leyden High School District 212 in Cook County. Leyden went 1:1 with 3,500 Google Chromebooks last year and since that time has learned the "do's and don'ts" of going 1:1.

The presentation was titled "Preparing students for the future ... whatever that may look like." The training focused on organizing student work folders in the cloud and its impact on assessment, such as Open Class and Socrative. Teachers were able to create, share and collaborate on several activities "live" via Google docs on the Web.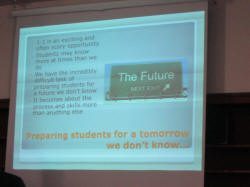 For more information on Leyden's 1:1 initiative and its positive impact on student achievement, see the following case study: http://bit.ly/15brubK.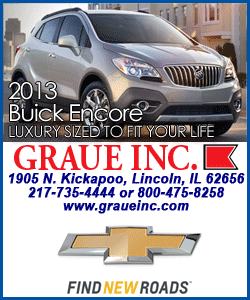 Recently, the NH-M 88 Board of Education adopted several board policies regarding the use of district-owned technology in preparation for the deployment of Chromebooks next month to every student in fifth through eighth grade.
To see more information about New Holland-Middletown's digital revolution, check out @NHMESD on Twitter.
[Text from file received from New Holland-Middletown School]