Marciariello searches the country for interesting people whose professions will provide fascinating glimpses into areas of expertise that we may not encounter here in central Illinois. This year is no exception.

The programs will present not only members of the arts, an area that Marciariello knows well from her career directing orchestras and arts organizations in the U.S. and Europe, but will also include people in unique professions.

Behind the Scenes kicks off on Oct. 25 with a visit to Atlanta by a representative of the world-renowned St. Louis Zoo, who will discuss their baby animal program and how it is managed. No animals will be brought because of the distance, but animal care, mating and management of the program will be topics of discussion.

On Nov. 22, Marciariello is bringing Dudley Cocke to Atlanta. Cocke is nationally known for his Roadside Theater program, where he enlists members of a community to participate in a production that he directs. While he has staged productions in large cities like Brooklyn and New Orleans, he specializes in bringing theater to rural America, with a theme of social activism.

Bob Lupone will travel to Atlanta on Jan. 10, 2014. A dancer and actor, Lupone is the brother of actress Patti Lupone. He has starred on stage and television, appearing in the original production of "A Chorus Line" on Broadway and in "Jesus Christ Superstar." His television credits include the popular crime drama "The Sopranos," where he had a recurring role, and "Sex in the City."

Marciariello is offering a change of pace from the arts world on Jan. 31. Ryan Aper, a Lincoln High School graduate and Major League Baseball draftee, will be interviewed about what his experiences have been breaking into professional sports. Aper holds several records set during his time at Lincoln High and Lincoln Land Community College. He was drafted by the Miami Marlins.

Valentine's Day, Feb. 14, will be a special evening as the Atlanta Country Club will be turned into a cabaret when Brian Davis travels to town to entertain. Davis is a Peoria-area singer and songwriter.

All of the Behind the Scenes programs will be at the Atlanta Country Club. The evenings begin at 6:30 with a wine and cheese reception, and the program commences at 7. The cost is $10 per show, or $9 when a person books four or more programs.

Check the Atlanta Public Library website, www.apldinfo.org, for further details. The Behind the Scenes information is listed under "Programs & Services > Programs for Adults," or click here. The library phone number is 217-648-2112.
---

Lincoln Public Library to host Halloween costume swap
The Lincoln Public Library District will have its first-ever costume swap in early October Bring your clean, gently used children's costume and exchange it for another.
The swap will be in the Annex on Friday, Oct. 4, from 2 to 5 p.m. and Saturday, Oct. 5, from 9 a.m. to noon.
You can bring in costumes earlier in the week and receive a ticket to use during the swap. Costume donations will be accepted.
For more information, visit the library at 725 Pekin St. or call 732-8878.
---

City to host Community Night in Postville Park
The city of Lincoln will host a Community Night at Postville Park next week. The event will be on Thursday evening, Oct. 3, from 5:30 to 7:30 at the park in the 1300 block of Fifth Street, across from 5th St Food Mart.
At 5:30, Lincoln Police Department D.A.R.E. will begin grilling free hot dogs and serving them with chips and soda. The city clerk's office will provide sweet treats for everyone.
Members of the community will be able to check out a city police squad car, city fire truck and a city dump truck as well as other city vehicles for everyone to see inside and out. The Lincoln Fire Department will also have a fire hose open for those who want to knock out the flames in the windows of the "Squirt House".
The newly painted old Chautauqua house and polling place will be open for the evening for those curious about what's inside.
The From the Ground Up group will be on-site to launch this year's Plant the Town Red project by planting red tulips donated by city council members David Wilmert and Kathy Horn of Ward 2 and Chuck Conzo, city treasurer. Red tulips will also be available for purchase at 100 bulbs for $15 to those wanting to help "plant the town red" this fall.
The city of Lincoln hopes to see citizens of all ages join in an evening of fun and food.
For more information, contact Kathy Vinyard at 732-2122 or kvinyard@cityoflincoln-il.gov.
---

Kiwanis installs officers for the new year
Lincoln Kiwanis Club met Tuesday evening, Sept. 24, in the Lincoln College Alumni Room for their annual dinner.
Bridget Schneider, past president, turned over the gavel to the new president, Cindy Stover. Other new officers are Perry Grieme, president-elect; Carol Mills, vice president; Tom Comstock, treasurer; Stu Churchill, secretary; Schneider, past president; and Marti Sawicki, Mike Booher and Bob Sullivan, directors. The new officers were installed by Patrick Stout, district lieutenant governor.
Schneider presented the Kiwanis Distinguished Service Award to C. Wayne Schrader and the Kiwanian of the Year Award to Tom Comstock.
Entertainment was provided by Gunderman and Klink, and the dinner was prepared by chef Warren Wendlandt and staff.
The Kiwanis Club meets at noon on Tuesdays in the Mary Pat Room at American Legion Post 263 in Lincoln.
Kiwanis is a global organization of members dedicated to serving the children of the world.
---

Writing club to meet Oct. 8
Lincoln Writer's Club will meet Tuesday, Oct. 8, at 6:30 p.m. in the Alumni Room of the Meyer-Evans Student Center at Lincoln College.
Tom Jones, author of "Lost Survivor," will be the guest speaker. Jones, a Vietnam veteran, is an award-winning author, playwright and producer.
Everyone is invited to attend this special event.
---

HSLC to host blessing of animals and dedicate new pet cemetery Oct. 5
The Humane Society of Logan County invites all pets and their owners to a blessing of animals, in the spirit of St. Francis. The ceremony will be on Saturday, Oct. 5, at 2 p.m. at the Humane Society, 1801 E. Lincoln Parkway in Lincoln. The Forever Home Pet Cemetery, located on the grounds, will also be dedicated and officially opened.
Pastor Tami Werschey from Hartsburg United Methodist Church and the Rev. Mark Evans from Trinity Episcopal Church will conduct the dedication of the cemetery and the blessing of the animals.
Pets should be leashed or crated.
The pet cemetery is the most recent program of the HSLC, created to fulfill a need in Logan County and provide a source of income to support the shelter.
Visitors will be invited to tour the shelter and meet the newest adoptable pets. Donations of pet food for the shelter and pantry will also be accepted.
---

Lincoln Jaycees now accepting Angel Tree applications online
The Lincoln Jaycees are now accepting applications for their Angel Tree program. This year the applications are online only.
Eligible children must be between the ages of 1-10 and be residents of Logan County.
Applications are being accepted until Oct. 28, or sooner if all spots are filled.
To apply or to find more information about how to donate to the Angel Tree, visit www.lincolnjaycees.com.
---

Roger McCoy named ALMH September Employee of the Month
Roger McCoy of Normal has been named the September Employee of the Month at Abraham Lincoln Memorial Hospital in Lincoln. McCoy works as a charge nurse in the emergency department. He has worked for ALMH for over 13 years in total and has over 30 years of experience in emergency medicine.
McCoy's father had a career in the Army, so Roger was born in France and grew up across the United States, finally settling in Illinois at the age of 14. McCoy began working as a paramedic and continued his education thanks, in part, to ALMH education grants and tuition reimbursements. He earned his bachelor's degree in nursing in 1996 and has since earned several certifications.
Being an emergency nurse is diverse and unpredictable. All ages with both emergent and non-emergent issues from toothaches to heart attacks enter the emergency room. As an emergency nurse, McCoy enjoys the diversity, but he especially enjoys the interaction and teamwork between employees and the different departments.
"When we are faced with a challenge, it's amazing how we all pull together to find a solution. ALMH is a great place to work," McCoy said.
McCoy was nominated by co-worker Jennifer Prather, who works in the lab department.
"Roger is always there for everyone," Prather said. "He never complains and answers questions with excellent, easy-to-understand examples. He makes me feel like I am an important and valued employee. He makes work fun."
ALMH, a 25-bed critical-access hospital at 200 Stahlhut Drive in Lincoln, is an affiliate of Memorial Health System. The hospital employs over 315 in a variety of roles. For more information, visit www.almh.org.
---

Community blood drive at Farmers Bank in Mount Pulaski
MOUNT PULASKI -- To help ensure an adequate blood supply for the region, Farmers Bank, 130 S. Washington in Mount Pulaski, is hosting a blood drive on Friday, Oct. 4, from 9 a.m. to noon.
For your convenience, call the blood center to sign up toll-free at 1-866-GIVE-BLD (1-866-448-3253), or schedule an appointment online at www.bloodcenterimpact.org, using sponsor code 60032. Walk-ins are also welcome and truly appreciated.
Central Illinois Community Blood Center, a not-for-profit organization, is the provider of lifesaving blood for 14 hospitals throughout central Illinois, including Abraham Lincoln Memorial Hospital in Lincoln and Memorial Medical Center and St. John's Hospital in Springfield. CICBC is a division of the Mississippi Valley Regional Blood Center, which collects over 180,000 units of blood annually and serves 87 hospitals in Illinois, Iowa, Missouri and Wisconsin.
---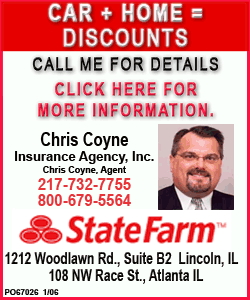 ---

Roll-making time for the Harvest of Talents
You know you have arrived at the Harvest of Talents for World Hunger when you enter the glass doors of the Lincoln Church's Fellowship Center at 7 a.m. on the fourth Saturday in October and are greeted by the sweet smell of the event's "signature" caramel pecan and cinnamon rolls -- fresh from the oven.
The cinnamon and caramel pecan breakfast rolls go back to the early years of the event, when sisters Glenda Appel Allison and Gail Appel Clark volunteered, with their mother's recipe in hand, to make all of the rolls to be served at the 7 a.m. opening. That year, 300 rolls lined the kitchen counters through the night to rise so they could be placed into the ovens for baking very early in the morning.
Spin forward in time some two dozen years to the 30th Harvest of Talents for World Hunger, and that same wonderful fragrance will greet those arriving for breakfast and shopping for hundreds of handmade items on Harvest Day.
Steve Elkins, for many years the man in charge of Harvest roll-making, is retiring from that responsibility, and Melanie and Joe Schaler, together with a crew of roll-making volunteers, some seasoned and others brand-new, are busy producing this year's bounty of breakfast rolls at the Harvest of Talents.
Each of the Wednesday nights in September, a group of roll-makers -- some junior high school age, others well into retirement and those in between -- have donned aprons and were found measuring flour, sugar, eggs, butter and other baking ingredients, including lots of cinnamon, to make this year's breakfast fare. Rolls have been lovingly rolled and cut and arranged into baking pans to be frozen in preparation for the Harvest of Talents morning and the final baking and finishing process.
Between 1,700 and 2,000 caramel pecan and cinnamon rolls will greet the early morning diners and shoppers.
But even before that, rolls will be served to workers assembled at 6 a.m. to make final preparations for Harvest Day. Together the workers will share a devotion offered by Rick Jett, chairman of International Disaster Emergency Service, the organization receiving each year's Harvest proceeds. Those standing in line outside awaiting admittance will share in this devotion via the church's public address system.
All of this accomplished, the doors of the Fellowship Center will swing open at 7 to greet early morning guests.
The public is encouraged to attend the 30th annual Harvest of Talents for World Hunger. Hundreds of handmade items, many one of a kind, will be offered for sale. Luncheon will include homemade vegetable soup, sandwiches and pies. In Harvest Fare, the area outside the Fellowship Center, a variety of snacks will be available, including deep-fried potatoes, hot dogs and walking tacos. Lincolnberry Café will offer its traditional scones, brisket sandwiches, flavored coffees, hot spiced cider and hot chocolate, as well as a variety of snack mixes. Entertainment will be provided at midmorning by Lincoln vocalist Lesleigh Bennett and the True Blue quartet from Elkhart.
A 2 p.m. auction will be the highlight of the day's events.
Proceeds of the 30th annual event will be presented to Jett, of the International Disaster Emergency Service, during a service of celebration at 10 a.m. Sunday, Oct. 27, in the Hargrove Chapel at Lincoln Christian University.
For more information, contact the office of Lincoln Christian Church, 204 N. McLean, phone 217-732-7618.
---

Development partnership plans 2nd annual Night Golf Outing
The Lincoln & Logan County Development Partnership Night Golf Outing, a fall fundraiser, is planned for Friday, Oct. 11, at North Greens Golf Course in Atlanta.
The rain date will be Saturday, Oct. 12.
This is a golf scramble with shotgun start at 7 p.m. The course will be lit with glow sticks by tee boxes, fairway markers, flags and holes. Hazards, such as water, will also be marked.
Registration fee is $50 per person, $200 for a team. The cost includes the 9-hole green fee, golf cart, one glow ball, one glow stick and one glow necklace per participant, two wristbands per car, and happy hour snacks. Extra glow items as well as mulligans and alcoholic beverages will be available for purchase at check-in
Prizes will be awarded for first- and second-place teams for longest drive, longest putt and closest to the pin.
Sponsorships are still available for hole sponsor, $100; first-place team; second-place team; longest drive; longest putt; closest to pin; and glow light sponsor, $600.
If interested, contact the Lincoln & Logan County Development Partnership at 217-732-8739 or see the partnership's website at www.lincolnlogan.com for more details and a registration form.
---

New Holland Fire Protection District uses grant to decrease personnel response time in emergencies
A simple text message can save a life
Mason City Monsanto site supports local organization
NEW HOLLAND -- Many people use text messaging for communicating social information, but they may not realize that text messaging can help save lives. Thanks to the Mason City Monsanto, the New Holland Fire Protection District will be able to purchase a supplemental emergency alert notification and response system. Using a $3,000 grant from the Monsanto Fund, the dispatch center can now send text messages to first responders about an emergency in the area.
The New Holland Fire Protection District, a nonprofit in New Holland, was founded in 1948 and is staffed by 25 volunteer firefighters. The district will use the grant to decrease personnel response time to emergencies.
"Our department is very appreciative of the Monsanto Fund's support," said Todd David, co-chief of the New Holland Fire Department. "This grant will directly impact the members of our community."
The fire station sits on the outside edge of the department's radio range, so some volunteers do not receive emergency pages. The new emergency alert notification and response system monitors the radio and sends a text to all personnel if there is an emergency in the area. Firefighters can then choose different codes to text back, which will notify the station about their response status.
"The people in New Holland and the surrounding area rely on the volunteers to protect their businesses, homes and families," said John Endsley, Mason City Monsanto site lead. "We thought the fire department was deserving of this grant because these volunteers put their lives at risk to make sure our community is safe."
This year, the Monsanto Fund awarded 127 site grants to nonprofit organizations in 26 states. In Illinois alone, 18 site grants were awarded and totaled $201,100. The Monsanto Fund continues to provide support to organizations such as the New Holland Fire Protection District to help strengthen communities where farmers and Monsanto employees live and work.
---

Public invited to 3rd annual Life Banquet
Living Alternatives Pregnancy Resource Center will present their third annual Life Banquet on Tuesday, Oct. 1, at the Lincoln Rec Center. Doors open at 6:30 p.m. and the banquet is at 7.
Everyone is invited to join the evening of celebration as the group shares the victory of hearts touched and lives transformed through the Living Alternatives Pregnancy Resource Center.
There is no cost to attend, but there will be an opportunity to make a financial gift to this ministry.
For more information, call 735-4838.
---

Illinois American Water to flush lines
Illinois American Water will conduct water main flushing in Lincoln beginning Monday, Sept. 23, as part of regular maintenance. The routine work is being done as part of an annual water main flushing program that improves customer water service by flushing or cleaning mineral deposits and sediment from the water mains. Flushing will be during daytime hours, between 7:30 a.m. and 3:30 p.m. Monday through Friday, and will continue through Oct. 3.
The anticipated flushing schedule for Illinois American Water's Lincoln District is:
Monday, Sept. 23 -- East of railroad tracks to Pulaski Street.

Tuesday, Sept. 24 -- East of railroad tracks from Pulaski Street to Keokuk Street..

Wednesday, Sept. 25 -- East of railroad tracks from Keokuk Street to Lincolnwood, including all of Mayfair.

Thursday, Sept. 26 -- Between railroad tracks and Union from Decatur Street to Feldman Drive.

Friday, Sept. 27 -- Between Broadwell Drive and Seventh Street.

Monday, Sept. 30 -- Between Seventh Street and 16th Street.

Tuesday, Oct. 1 -- Between 16th Street and Feldman Drive.

Wednesday, Oct. 2 -- West of Lincoln Parkway from Fifth Street to Woodlawn.

Thursday, Oct. 3 -- West of Lincoln Parkway on Woodlawn to Interstate 55.
The water main flushing will be performed by Illinois American Water crews. They will be working out of white utility trucks labeled with the company logo. All employees will also have photo ID badges.
No interruptions in water service will occur as a result of the work. Illinois American Water advises that when crews are flushing nearby, customers may experience a slight drop in water pressure or discoloration of their water.
Illinois American Water does not foresee incidences of discoloration, but if this does occur, it is recommended that customers let their cold water run to clear before using it again, and refrain from doing laundry during that time. If problems persist, notify Illinois American Water's customer service center at 1-800-422-2782 (available 24 hours a day).
"The flushing program is designed not only to maintain a high quality of water in the Lincoln distribution system, but to inspect and operate fire hydrants to assure they are in good working order as well," said David Schonauer, operations superintendent for the Lincoln District.
---