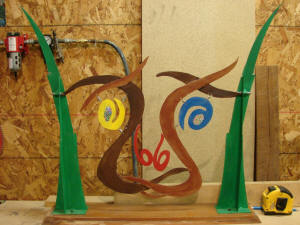 Lincoln public art scene to broaden with new sculpture near Depot

Send a link to a friend Share
[April 01, 2014] Public sculpture in Lincoln is about to get another display in the Sangamon Street art corridor. First, Jason Hoffman's "Constellation" was erected last year in the green space across from the Blue Dog Inn. Now, an ambitious sculpture by Moses Pinkerton is under construction and planned for installation in the small park area across the railroad tracks from the Lincoln Depot.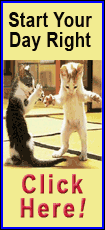 Pinkerton, owner of the Lincoln Art Institute at 112 S. McLean St. and a member of Logan County Art, has designed a large outdoor sculpture titled "Cow in the Corn."

The sculpture is 27 feet wide and 22 feet tall and will weigh over 3,000 pounds. It is constructed of one-quarter-inch sheet steel.

In order to fund his project, Pinkerton, with the assistance of Main Street Lincoln, will mount a fundraising appeal for $10,000 on the crowdfunding website Indiegogo. The rollout of the appeal will be on Friday and will last 60 days. The website is www.indiegogo.com, and click on the community page.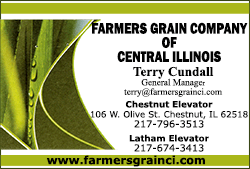 In order to help with the fundraising, individuals donating to the project will receive artwork as a thank-you, depending on the level of support. The artwork will be created by Pinkerton and other members of Logan County Art especially for this project. Anyone donating over $250 will receive a scale-model replica of "Cow in the Corn."
By placing the sculpture across from the Lincoln Depot, it is hoped that travelers on the train will remember their stop at Lincoln, be intrigued by the art and want to return. A large sign denoting the station as Lincoln will be included with the sculpture.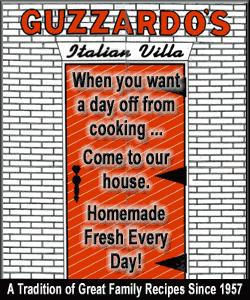 Bill Hoagland of Main Street Lincoln is doing the administrative work to get the appeal posted on Indiegogo. Any funds collected exceeding $10,000 will go to Main Street for public art projects. There will be an Indiegogo link on the Main Street Lincoln website beginning Friday that will take art patrons directly to the correct page.
The work on the "Cow in the Corn" sculpture began March 1 in Hoffman's sculpture studio at 517 N. Sangamon St. Completion is anticipated to be in July.
[By CURT FOX]