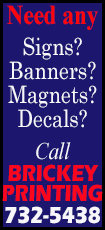 The recruits completed 24 weeks of intense general law enforcement training and specific conservation police training, totaling nearly 1,000 hours to prepare them for their new jobs.
"We are especially proud to introduce the second class of conservation police officers in just two years," Miller said. "I am committed to rebuilding our conservation police force so our men and women can provide increased protection to Illinois citizens and our state's natural resources."
Conservation police officer recruits are first required to attend the Illinois State Police Academy for basic law enforcement training and certification. The ISP Academy lasts for 12 weeks and includes 480 hours of classroom instruction, practical training and scenario training. The training covers everything from Illinois vehicle and criminal codes to domestic violence and drug enforcement.
Upon successful completion of the ISP Academy, recruits enter the Illinois Department of Natural Resources Conservation Police Academy. The CPO Academy is also 12 weeks in length with 480 hours of course work. During the CPO Academy, recruits receive classroom instruction, practical field instruction and scenario-specific training to develop skills of a conservation police officer that no other training can provide.
The areas covered include the Wildlife Code, Fish and Aquatic Life Code, Boat Registration and Safety Act, Snowmobile Registration and Safety Act, timber enforcement, endangered and threatened species, Migratory Waterfowl Act, defensive tactics training, firearms training, boat operation and handling, ATV operation and handling, and vehicle maintenance and operation with trailers.
Illinois Conservation Police officers protect Illinois citizens and visitors in state parks, on state waterways, and on the highways and back roads of Illinois. They enforce game and fish laws, boat safety, timber regulations, and drug and traffic laws. CPOs assist outdoor recreation enthusiasts in enjoying their time outdoors safely, and they are first responders in times of floods, tornadoes, blizzards, and other natural and man-made disasters.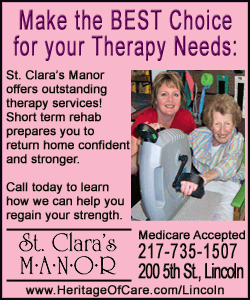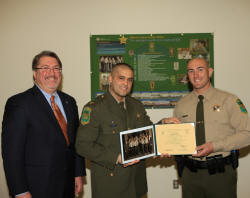 IDNR Director Marc Miller (left) and Rafael Gutierrez (center), chief of the IDNR Office of Law Enforcement, are pictured with new Conservation Police Officer William Gilmer of Lincoln.
The following individuals were sworn in March 28 as conservation police officers:
Jarrod J. Elliott, LaHarpe

John L. Farber, Morris

Stuart M.L. Fraser, New Douglas

William O. Gilmer, Lincoln

Nicholas S. Honiotes, Joliet

Jason R. Hurt, Peoria

Roberto Macias Jr., Nashville

Joshua R. Mooi, Wheaton

Nathan L. Murry, Pinckneyville

Nicholas A. Reid, Joliet

Todd Anthony Semenik, Homer Glen

Victoria Angela Smith, Elmwood Park

Colin R. Vaughan, McHenry

Scott E. Wagner, Malden
This new recruit class brings the total number of Illinois Conservation Police officers to 140. During its peak in the late 1970s, Illinois Conservation Police had as many as 189 officers on staff.
[Text from Illinois Department of Natural Resources file received from the Illinois Office of Communication and Information]
Follow the IDNR on Facebook and Twitter.