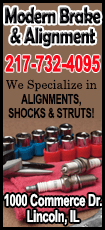 Bill left his mark in humble service, kind words and model behavior. If you met him, you knew he was a person you could trust to speak truthfully and in the interest of the community that he loved.

Those who worked with him knew he could be relied on to follow through in the best manner possible, no matter the apparent obstacles. Often his tasks were huge, and few would know the time and effort he would put forth to see them to fruition. There were multiyear projects that would not bring him glory, but necessary for our community's betterment and growth.

In most recent years, Martin aided in the development of a revised Comprehensive Plan and a new Comprehensive Economic Development Strategy, two large undertakings needed to bring federal grants to Logan County and its communities. Another large impact he made was as the chairman of the board of Christian Child Care in Lincoln, assisting that agency in a financial turnaround from when it was about to close its doors to how it is now on solid ground.

Always offering an encouraging spirit and a can-do attitude with just the right and timely words, Bill was the needed strength and endurance to move big projects forward. Logan County has much to be thankful for that was accomplished by the hands of this man.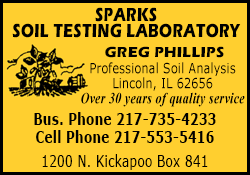 Bill was actively attending matters of importance up until his untimely death at his home in Atlanta on March 26, 2014.
LDN news director Nila Smith recalled her first meeting with Martin:
I began working for LDN in November of 2008. In February I was assigned to interview Bill as an LDN personality of the week. Still being new to the job, and still getting acquainted with the community, I was nervous about sitting down with someone who was at that time a stranger to me. Bill however, made it easy. He was open, honest, and forthcoming as we sat at the Country Aire in Atlanta and ended up talking for nearly two hours.
Bill was a kind hearted person with a great love for his family, his community of Atlanta, and the county on the whole. He took his various roles in the community very seriously and spoke candidly about the good points and the bad points.
When I left that meeting, I felt like I had known Bill Martin for years, and that he was not just an acquaintance, but also a friend.
In the years that have passed, that feeling of friendship has continued. He and I were never in the same place but what he was right there with a hug and a few moments of catch-up conversation.
When I heard that Bill was gone it truly broke my heart, as once again God claimed a real keeper, Logan County lost one of its finest ambassadors, and I lost a good friend.
The words below from a few of his colleagues are insightful and offer a glimpse of how well this giant of a man quietly served Atlanta and Logan County.
Carol Gustafson, Logan County Regional Planning Commission:
I had the privilege of working with Bill on the Logan County Regional Planning Commission for many years. Bill was always looking out for Logan County. He took time to listen to everyone and he sought input from all sides. Bill made sure he was prepared for meetings. He spent a lot of time researching, understanding, and organizing data so that when he presented it we were able to make the best decision for Logan County.
Bill was very proud of his hometown and his family. He told many stories and I always enjoyed hearing them. I remember when Atlanta celebrated their sesquicentennial. Bill grew a big beard for the celebration. I didn't recognize him when he shaved it off!
Bill will be missed by many.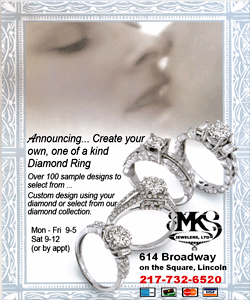 Derrick Crane, Logan County Regional Planning Commission:
I write this tribute today with a heavy heart. This was a man that loved serving the people of Logan County. I witnessed first hand his passion for making Logan County a great place to call home by how involved he was on the Logan County Board, Logan County Regional Planning Commission and Lincoln/Logan County Economic Developmental Partnership and countless other organizations. I saw a honest and caring man in action over the years and the County should be very proud to have a man of his character and passion to have represented them. I'm sure I'm not alone in saying this...you'll be missed. Good bye my friend.
Andy Anderson, Logan County Board:
In my conversations with Bill what stood out the most was his straight forwardness and honesty in answering any questions I had. I remember when the Board voted to give ourselves a pay raise and I wrote an article in the Courier criticizing our decision. Next time Bill saw me he pulled me aside and said that while he agreed with what I said, what I should not have done is beat my own chest. And to this day I remember that advice from someone who was a public servant far longer than myself. It was incredibly refreshing to engage in conversation with Bill knowing he had a lot of knowledge and was willing to share with me whatever I asked of him. Men like Bill are few and far between and I know he will be sorely missed.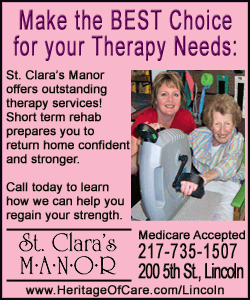 Rick Aylesworth, Logan County Board:
I served on several committees with Bill and really admired the knowledge he brought to the board. He was very dedicated in his work. He would always show up early to meetings and take the time to ask about everyone and how they were doing. He will be greatly missed.
Sally Litterly-Turner, Logan County clerk and recorder:
Bill was a man of strong character. He was instrumental in the beginning stages of our Geographic Information Systems Committee of which is now in full swing and an intrigal of our mapping process in the county. At its inception, we had many hurdles and Bill was at every meeting with wise, thoughtful and innovative solutions to difficult problems. His quiet demeanor and methodical way will be missed by those of us that worked with him in county government. He was a kind, caring, gentle man. We wish the family peace as they grieve for their husband and father.
Bill Thomas, interim executive director, Lincoln and Logan County Development Partnership:
I think it was Sir Isaac Newton who, after being commended for one or another of his mathematical accomplishments, said something like "If I have seen farther than others, it is because I have stood on the shoulders of giants." I've been overly fortunate in my life when it comes to the joy of helping accomplish things and being commended for doing so. But for me - and I'm sure many others - we would not have seen as far nor accomplished as much if not for Bill Martin. Whether he knew it or not, Bill was a mentor. I can't think of the number of times I called him up during the day to ask for his advice, his counsel, or his wisdom. More often than not, the advice he shared centered on how to work with others to get things done - something at which he was a master. I hope I paid enough attention during those phone calls to remember all his good guidance, because it's going to be a struggle to not automatically reach for the phone to call Bill whenever I need to once again stand on his shoulders.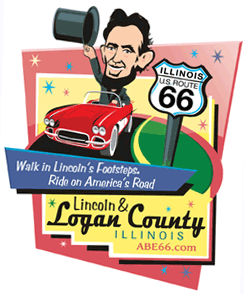 Keith Snyder, Logan County Regional Planning Commission, Lincoln mayor:
It's hard to summarize a person as fine as Bill. Let me just share some things I'm going to miss about Bill Martin, the public servant.
I'm going to miss Bill's sense of humor. When you're in public service you have to have a good sense of humor to survive. Bill did. He made you feel welcome with his smile, and he had an easy smile; not one you had to force out of him. When Bill laughed, all of Bill laughed. His eyes would twinkle and sometimes he'd laugh so hard he couldn't get his next words out. Bill enjoyed public service, and he always kept things in the right perspective.
I'm also going to miss Bill's kind and gentle seriousness about public service. He knew things needed to be done and he set about doing them. Not in a showy, flashy way, but in Bill's way -- quietly and effectively. I never once heard him denigrate anyone else or say a bad word about something that anyone else was trying to accomplish. He didn't always agree with the things that some people were trying to do, but he never attacked them. He'd just listen, diffuse (or sometimes ignore...) their arguments, and move on with what he knew needed to be done. There was a best selling business book a few years ago entitled, "Quiet Leadership." That's the type of leadership Bill exercised and that's what Bill used to improve things for all of us.
The thing I'm going to miss the most about Bill was his bent towards the future. It's easy to get caught up in the day-to-day "mess" of local public service. I think Bill tolerated the day-to-day stuff so he could work on the long-term projects he knew that his community and this county needed most. Logan County is part of a regional economic development effort (CEDS) because of Bill Martin. He knew our county couldn't do everything alone and had to be a part of a larger, regional focus. It took several years, and that delay caused many to doubt its benefit, but Bill never wavered. If he knew it was right for our future, Bill was always there. No matter what the project, he gave his all and worked hard to make the vision he had of our future a reality.
Atlanta and all of Logan County was blessed to have Bill Martin working for us. We'll miss him tremendously. We need more people in public service like Bill.
Bill Martin was an alderman of Atlanta for two years, mayor of Atlanta for 11 1/2 years and a Logan County Board member since 2008. His many committee memberships included the Logan County Regional Planning Commission, serving as chairman and vice chairman; Lincoln & Logan County Development Partnership liaison; Regional Development Council representative; Logan County Paramedics board; Atlanta Historic Commission; and Atlanta Fall Festival Committee. He had also served as the board chairman for Christian Child Care in Lincoln.
As a county board member, Martin served on numerous committees of the board:
airport and farm, road and bridge, planning and zoning; law enforcement, EMA, coroner, ambulance, executive/economic development, animal control, insurance and legislative, and liquor. He also held strong interest in and helped promote the countywide bicycle trails plan development.
Bill was also an active member and church councilman of LifePointe Church of God in Lincoln and a member of American Legion Post 341 in Atlanta.
LDN salutes Bill Martin on a life well-lived.
[LDN]
Obituary: George William "Bill" Martin Jr.