Art class
Flowers Gone Wild! In Y art class, kids will make giant paper tissue flowers on a stem and also learn to draw large hippie-style flowers, stems and leaves, and then paint them with psychedelic colors from the '70s. Come and have some flower-power fun using neon-colored paper, markers and paint. This class is for children in kindergarten to third grade. Monday, April 21.
Kids Bike Ride
The YMCA will host its 2nd annual Kids Bike Ride in May. The 5-mile course takes riders around historic sites of the Lincoln area and offers entertainment and exercise for the whole family. Snacks and drinks are included. Age 4 to sixth grade. Parents of all participants ride for free. Saturday, May 10.
Scatterball and kickball
Scatterball and kickball are two popular, up-and-coming sports in America. Participants will start off playing scatterball, a gym game combining tag and dodgeball, and finish with kickball, like baseball without the bats. Twice the fun for everyone. Pay for one sport and get the other free. Age 3 1/2 to sixth grade. Thursdays, April 24-May 15.
Softball
Hit a home run with softball. Y instructor Lisa Laforge will put the "fun" in "fundamentals" of softball. These instructional sessions will include catching, fielding, hitting, running bases and much more. The most fun will come on the last night, when participants compete against their parents in a live-game scrimmage. Ages 8-12. Tuesday-Thursday, May 13-15.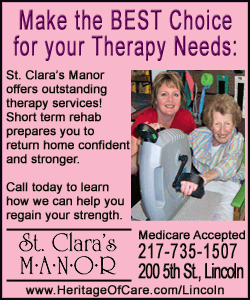 Summer camp
Y Summer Day Camp provides an opportunity for children to experience a fun-filled summer making new friends and learning with qualified, nurturing, high-energy Y counselors. What determines the success of Y camp? Y kids are guaranteed to come home each night tired, dirty and hungry. Kids learn to lead, to share and to work as a team. Children make great memories, laugh and smile a lot, as camp puts play in their day. The day camp activities include daily exercise, character-building lessons, weekly water park field trips, water play days, outdoor recreation, Bible stories, art, reading, music and more. Day camp is for kids from kindergarten to sixth grade. June 4-Aug. 29.
Swimming lessons
Y swim lessons are at the Elks, and the first session begins on June 16 The Y offers three two-week sessions for ages 3-12. There is also a parent and child class for children 6 months to 3 years old. Swimmers will learn the basics of swimming and water safety for the younger groups and more advanced swim strokes and techniques as they get older. Private and adult lessons are also available upon request.
[Text from file received from Lincoln Area YMCA]