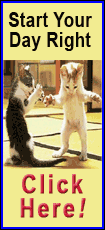 (Copy of questionnaire responses)

How many employees? 2

Website:
https://www.sblincoln.com/
financial-services-
investment-center.htm
on the State Bank of Lincoln website

How long have you been a Chamber member?
20 years

I joined the Chamber because....
I joined the Chamber in 1994 as an opportunity to meet and network with other business people in the area. I continue to be a chamber member for the same reasons.

Why did you decide to invest in Logan County?
When I first moved here, I knew very little about Central Illinois even though I am originally from Kewanee, a town only about 100 miles away. I like the idea of the small town atmosphere with the ability to enjoy many of the other cities that are within minutes away.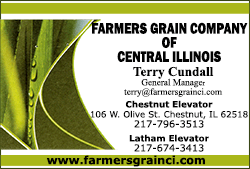 What products and services do you offer to Logan County?
The Investment Center offers a full range of investment products and services including not only the standard security investments such as stocks, bonds, and mutual funds but also the non traditional areas like insurance, retirement planning, estate planning, long term care insurance and business financial services.
What does the future of your business look like?
As the general population grows older, the need for solid investment advice will become even more in demand with the need for retirement income sources and preservation of assets.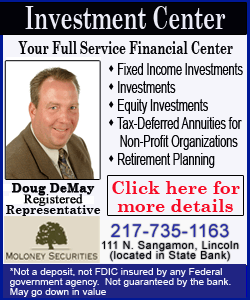 Five "Did you know" facts about
This year will be the 20th anniversary of the Investment Center in Lincoln.

The Investment Center not only offers stocks, bond, and mutual funds, but also life insurance, nursing home insurance alternatives, and retirement planning solutions.

The Investment Center 2 years ago switched broker dealer affiliations to Maloney Securities who clears through RBC, on the the biggest clearing firms in the world.

Doug can be contacted 24 hours a day, 7 days a week including holidays to answer any investment questions.

Not one does the Invest Center cover the Lincoln and Logan County area but now we have expanded our concentration to the Clinton and DeWitt County area.
Contact Person: Douglas DeMay, 217-735-1163
[Text copied from file received from the Lincoln/Logan County Chamber of Commerce]