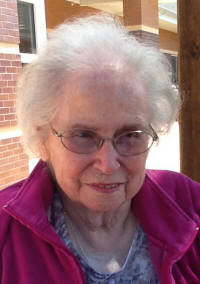 Marie Cheek
[April 10, 2014] ATLANTA — Marie M. Cheek, 96, of Atlanta, died Wednesday, April 9, 2014, at Apostolic Restmor in Morton.
(Below is a copy of the obituary from the funeral home.)
___
Atlanta Marie Kindred Cheek, 96, of Morton formerly of Atlanta passed away on Wednesday, April 9, 2014 at 9:15 a.m. at the Apostolic Christian Restmor Nursing Home in Morton.
Funeral Services will be held on Monday, April 14, 2014 at 11:00 a.m. at the Quiram Peasley Funeral Home with Mr. Maurice Stribling officiating.
Visitation will be held for one hour prior to the service.
Burial will be in the Atlanta Cemetery.
Marie M. Cheek was born on March 9, 1918 in Lincoln the daughter of Albert Edward and Christina M. Holzaepfel Maloney. She married John D. Kindred on August 16, 1937. He preceded in death on November 13, 1963. She later married Michael E. Cheek on August 4, 1966. He preceded her in death on January 9, 2002.
Survivors include her children: David (Cheryl) Kindred of Carlock, Sandra (W. James) Litwiller of Morton. Four Grandchildren: Jeff (Lisa) Kindred, Sueann (John) Spinder, Jamie (Aleta) Litwiller and Kathy (Howard) Frampton.
seven great grandchildren, two great great grandchildren.
Also surviving Marie are Michael's children; Mark (Yvonne) Cheek, Mickey (Liz) Cheek and Christy (John) Agee.
seven step grandchildren, six step great grandchildren.
Marie was preceded in death by one step grandson: Jason Agee, one great grandson; Jared Kindred, one brother; Edward "Bud" Maloney and one sister; Kay Helton.
Marie graduated from Lincoln Community High School in 1936. She lived in Atlanta for over 60 years and worked as a waitress at the "Dixie Truck Stop" in McLean. In 1964 she started working at the Lincoln Development Center. She truly loved working with the "kids" there and was employed there until she retired in the early 1980's. During her retirement she continued with her love of the outdoors and fishing, going to Goofy Ridge with Michael, to fish.
Her last years were spent living at Apostolic Christian Restmor in Morton. She had three good years at Restmor thanks to the wonderful staff that work there. She truly enjoyed spending time in the activity room making crafts, helping with cooking, socializing, folding towels and trying to help the other residents. Marie made many friends, both residents and staff, while at Restmor and her family is very thankful for the part that they played in her life along with the wonderful support they provided the family.
In lieu of flowers the family would appreciate donations to Morton Rescue Squad or Apostolic Christian Restmor.