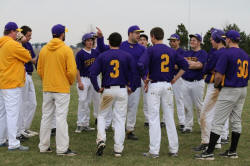 Toppers take Delavan 11-1
Send a link to a friend Share
[April 12, 2014] MOUNT PULASKI — Coach Joel Washko points out (in photo at left) the importance of this conference win following the Toppers' 11-1 victory over Delavan on Thursday in Mount Pulaski.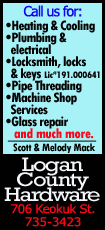 Junior Michael Lowery was handed the ball to start at 4:30 p.m., and he quickly struck out the side to open the game.

In the Toppers' half of the first, it was Blake Collier leading off with a triple and scoring the first run on a wild pitch. After a walk to Jordan Luczaj and a pitch inside to Lowery, which managed to graze him and allow him to take first, cleanup hitter Beau Collier singled to give Mount Pulaski an early 2-0 lead.

Delavan came back in the second inning to score a run off Lowery, but that would be the only run they would put on the board.

In the Toppers' half of the third inning, Lowery again was hit by a pitch, and a stolen base and wild throw led to the Toppers leading 3-1.

Delavan would load the bases in the fourth and fifth innings, but failed to score each time, with Lowery ending those innings with strikeouts.
Moving quickly to the bottom of the fifth inning, the Toppers scored a season-high of eight runs in an inning. A lead-off walk to Luczaj and a double by Lowery allowed Matthew Amidon to come up big with an RBI double. Caleb Pryzkopanski followed with an RBI single, and Brett Huff would continue to add to the Toppers' lead with a two-run single.
As the Toppers batted around in the bottom of the fifth, Blake Collier reached on a fielder's choice and quickly stole second. He would come home to score on a wild throw into center by the Delavan catcher to end the game, with the Toppers winning by the 10-run rule.
Lowery (3-0) struck out a season-high 12 batters.
The Toppers improved to 5-4 on the season.
Mount Pulaski travels to Decatur Lutheran on Saturday for a 2 p.m. game.
[By TEENA LOWERY]