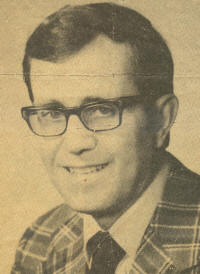 Duewell Welch
[April 15, 2014] LINCOLN — Duewell D. Welch, 88, died Sunday, April, 13, 2014, at The Christian Village.
(Below is a copy of the obituary from the funeral home.)
___
LINCOLN-Duewell D. Welch, 88, passed away on Sunday, April, 13, 2014 at the Christian Village in Lincoln. He was born July 29, 1925, the son of Ira and Emma Houseman Welch in Jerseyville, IL. He married Bonnie Edwards Hagen on July 18, 1948 in Lincoln. She survives as well as his daughter, Renee Dreusicke (John) of Lincoln and granddaughter Laine Dreusicke (fiancé Eric Sutkay) of Union Grove, Wisconsin. Also surviving are a sister, Bettie Linn of Poplar Bluff Missouri and several nieces and nephews.
Duewell (Doc) attended Jerseyville Schools, Shurtliff College and Millikin University. He served in the United States Coast Guard from 1942-1945, much of the time stationed at Pearl Harbor.
Mr. Welch was a part owner and general manager of Lincoln Builders Supply Company for twenty four years. He later earned his broker's license and opened Welch Real Estate. Before retiring, he was a field representative for the County assessor's office and a court bailiff for Logan County.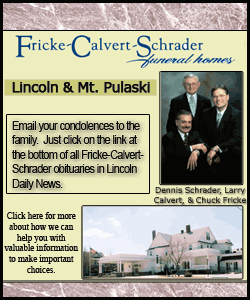 Duewell was a charter member of the Lincoln Junior Chamber of Commerce. He was a lifetime member of the Lincoln Elks B.P.O.E., joining the organization in 1949 and serving in most offices as well as Exalted Ruler. He served several years with the Logan County Red Cross, as a board member, as chairman, and as the blood bank chairman. Mr. Welch joined the American Legion in 1945 and was a member for over 60 years. Duewell was a board member of the Logan County Housing Authority, having served when the College St. apartment hi-rise was built. He served as the president of the Illinois Lumber Dealers Association and was selected as a Lincoln Courier Citizen of the Month in 1981.
Duewell loved the St. Louis Cardinals, Illinois basketball and LCHS basketball, being a charter member and officer of the Railer Basketball Booster Club. He and Bonnie enjoyed traveling, managing to visit all fifty states.
Funeral services will be held at 11:00 a.m. Friday, April 18, 2014 at Fricke-Calvert-Schrader Funeral Home, Lincoln with a nephew, William Edwards officiating. Visitation will be held one hour prior to the service. Full military rites will be accorded by Lincoln American Legion Post #263 Honor Guard.
Memorials may be made to the Logan County Red Cross, Lincoln Elks B.P.O.E. or the First United Methodist Church.