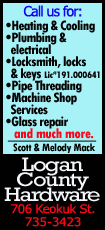 Two representatives from the accounting firm CliftonLarsonAllen LLP, Jeff Bonick and Adam Pulley from the Peoria office, provided an overview of the recently completed audit and the audit management letter to the board.

Bonick explained that the accounting firm recently completed an audit of Logan County's financial statements. He brought a chuckle when he said: "There's 138 pages. So, if you turn to Page 1, we'll go through each page carefully."

Bonick did actually begin on Page 1 to say that the first few pages were the report on the audit. He said that the important thing there is the auditor's opinion, which this year confers "an unqualified, or clean opinion on your financial statements." The report says: "It is our opinion that these financial statements are a fair representation of the county as of November 2013, the fiscal year ended."

"That is the objective at the start of an audit," he pointed out.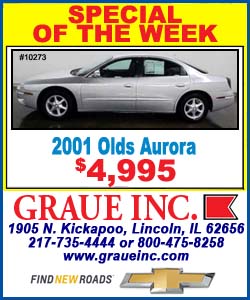 Bonick then referenced an opening page of figures and statements that provided a key summary: the statement of revenues, expenditures and changes in fund balances on Page 10. The most significant fund of the county is the general fund. That fund shows an increase of $753,182, which brings the fund balance to $2,177, 533.
The good news, Bonick said, is that "of that amount, roughly $1.8 million is the unreserved fund balance." This puts the county closer to the recommended 25 percent of expenditures in reserve. The expenditures of $6,414,837 for 2013 represent 28 percent of the fund balance.
A year ago, the fund balance represented approximately 15 percent of the expenditures. Bonick commended the board and finance committee for getting the fund balance to where it should be.
Bonick moved forward and reviewed an area that needed a bit of explanation: an amendment to an incorrect figure for the public defender's budget.
He then went on to reference the separate management letter, an important part of the audit, where the auditors make recommendations for changes in the county's accounting practices. He said they had already sat down with various office officials to go over recommendations.
As part of their service, CliftonLarsonAllen also compiled a document showing a five-year graphical analysis of the county's basic financial statements.
The first graph of import was the cash and cash equivalents, as it illustrated one of the reasons for the increase in the general fund balance. Bonick explained that this is where it shows a $600,000 bond issuance last year.
"Some of that money was spent, but not all of it," he said. The cash fund increased almost $700,000 to a total of $5 million.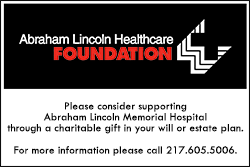 Correspondingly, the $600,000 bond obligation was later illustrated with notes, leases, bonds and compensated absences, bringing that figure to almost $1.2 million.
When it came to property taxes, which were up about $300,000 in 2013, Bonick said: "That is basically what you will have for the current fiscal year that you are in: roughly $3.9 million."
The difference between assets and liabilities, or total net position for the county, remained about the same as 2012 at $17.1 million.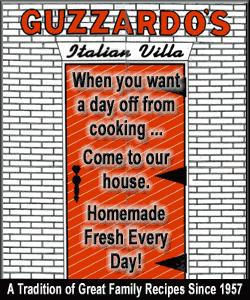 Revenues were up, property taxes at a steady increase to over $3,500,000, income taxes up more than $200,000 to over $1.3 million, sales taxes up a bit to $1.7 million, and motor fuel taxes up a bit to $635,000.
In other revenue of significance, there was approximately $500,000 in pass-through funding for a new transportation program and reimbursements for the airport hangar project, bringing operating and capital grants to roughly $2,500,000.
Total expenditures were up about $600,000, bringing that figure to $14,600,000.
Total fund balances of $11.1 million were up about $600,000 over last year.
Between 2009 and 2010, the general fund balance (the unreserved, unassigned portion) dropped approximately $300,000 to a low under $600,000, but that has been steadily increasing since 2010.
In review, Bonick said that in 2012 the general fund balance was $938,000, which was about 15 percent of annual expenditures.
"At the end of 2013 (it was), $1.8 million, 28 percent," he said. "So you can see a nice increase over the last five years for your fund balance."
While Ruben was pleased with the hard work that county officials had done to put the county in this position, he later said that there were some difficult things in the next couple of years that would not allow that percentage to stand, and he was still concerned about the future.
For one thing, the sheriff's department would need all-new vehicles in a year or two, and there would also be an added cost to retrofit equipment for each car, as the current model of Crown Victorias would no longer be available.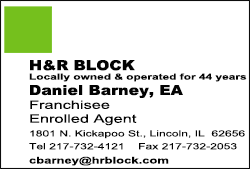 For another thing, some of the increase seen this year will not be renewing, as it was the unused portion of bonds taken out to cover court costs.
Both Bonick and finance chairman Chuck Ruben recognized the hard work of the department heads who continue to hold down expenses and to increase revenues where possible. They also complimented all those who made it possible for the county to do its own budget, which saved money this year.
In reference to the management letter, Bonick said there are opportunities for improvements within some of the departments and that they had sat down and talked with the various officials for those offices.
Bonick expressed appreciation to the county treasurer, Vicki Dugan, other county officials and staff they worked with in the process.
Seven of 10 board members were present. Conducting the meeting was vice chairman David Hepler, and others present were Kevin Bateman, Pat O'Neill, Gene Rohlfs, Chuck Ruben, Rick Aylesworth and Jan Schumacher. Absent were board chairman Robert Farmer, Andy Anderson and Andy Meister. Anderson and Meister were held over at an important tourism meeting. Two board seats remain empty.
[By JAN YOUNGQUIST]
For reference