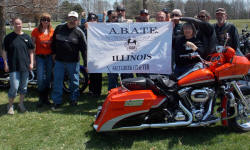 Salt Creek Chapter of A.B.A.T.E. motorcyclists host annual Easter egg hunt

Send a link to a friend Share
[April 21, 2014] The annual community Easter egg hunt at Kickapoo Creek Park is hosted by the Salt Creek Chapter of A.B.A.T.E. The event provides the community an opportunity to experience the kinder, truer side of motorcyclists, and gives the motorcyclists a chance to show that they are not only our neighbors, but are citizens who actively care about our community.
Bev Brown, public relations officer for the chapter, explained that all year long, "at every ride and at every function, the group collects money from their members for community projects." The local chapter provides the community Easter egg hunt and gifts for kids in need at Christmas.
The group also participates in official and honorary statewide events. The Salt Creek Chapter will join other motorcyclists in a special activity in Springfield later this year: a motorcade to honor Vietnam veterans.
The group hopes to dispel myths that create fears about bikers. As Brown pointed out, citing a couple of members of the local group who were present, some of the most kind-hearted people wear black leather jackets. And, the Salt Creek Chapter also has a number of women members.
The Salt Creek A.B.A.T.E. has been recognized by its state charter as the most active chapter in Illinois.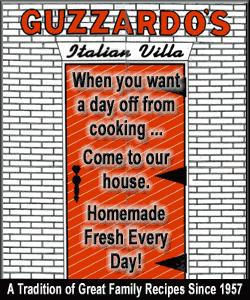 If you are interested in joining the group, you can find them at the first pavilion in Kickapoo Creek Park at 11 a.m. on the first Sunday of the month from April to October. You can also email saltcreekabate147@yahoo.com.
For further information, go to the Salt Creek Chapter website:
http://www.abate-il.org/saltcreek/
[LDN]