THAT'S WHERE THE JOBS ARE: Bloomington is losing jobs to Georgia.
Bloomington has State Farm Insurance, the largest employer in the area. But as Illinois languishes, is State Farm looking for better, richer neighbors?

State Farm spokeswoman Missy Dundov insists State Farm is not abandoning Bloomington.

"Our Corporate Headquarters and large employee presence will remain in Bloomington. We have and will continue to fluctuate around 15,000 employees locally," Dundov said in an email to Illinois Watchdog.

State Farm is quickly growing in Texas, Georgia and Arizona.

"State Farm will use multifunctional hubs in Dallas, Atlanta and Phoenix," Dundov said.

State Farm has added 4,600 jobs at hubs in Richardson, Texas, and Dunwoody, Ga. It has about 2,800 workers at the hub in Arizona.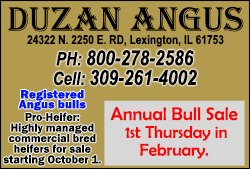 In all, the monolithic insurer has added 12,000 jobs outside Illinois.

There's little wonder why.
Texas, Georgia, and Arizona are all top 10 performers in either economic performance or economic outlook, according to the "Rich States, Poor States" report from the American Legislative Exchange Council. Illinois is almost last.
NOT SURPRISING: The "Rich State, Poor State" map holds few surprises
The report scores states on policies that encourage — or discourage — economic growth, factoring in taxes, debt, the minimum wage and business- climate costs.

The low cost of hiring people is the biggest reason Georgia ranks ninth in economic outlook, said state Rep. Tom Taylor. It's why Dunwoody has landed so many State Farm jobs.

"We're a right-to-work state," said Taylor, a Republican. "That is huge."

Dunwoody is aggressive in attracting new business.

"When companies come in, they've got a lot of things to do with infrastructure," according to Taylor, saying Georgia's Quick Start job-training program helps State Farm and others businesses get a running start.