[April 25, 2014]
Send a link to a friend Share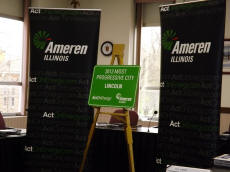 Thursday morning, representatives from Ameren Illinois and Ameren ActOnEnergy presented the city of Lincoln with the 2013 Most Progressive City award. The award comes as a result of the fact that a high percentage of Lincoln businesses have taken advantage of energy-saving programs through ActOnEnergy. Representatives from some of those businesses were present along with representatives from Ameren, the city and the Lincoln/Logan County Chamber of Commerce.
When the event was called to order, Agnes Mrozowski of Ameren spoke about the award and the significance of having a high percentage of local businesses participate in the ActOnEnergy energy-savings projects.
Daetta Jones of Ameren was then called up to present the award to the city. The award consisted of two signs that the city may place at a location of their choice, showing they are an energy-efficient city. Mayor Keith Snyder said the city has not yet determined where they will place the signage, but that it will be in a prominent location. It was also noted that while the gift Thursday was two signs, the city can have more if they request them.
Also on hand was Andi Hake, who stood with Snyder as he accepted the reward. Snyder said he had invited the chamber to be a part of this because they support local business in Lincoln. Hake commented that she was pleased to be a part of the recognition and also knew that of all the businesses that have participated in the energy-saving program, the vast majority of them are chamber members.
Pictures by Nila Smith