Pictured, left to right, are Brittney Peterson, Erin Peterson, David Peterson and Bill Block from the Illinois Elks Children Care Corp. and T.J. Cosgrove from Elks Lodge 914.

Lincoln Elks, Illinois Elks and ALMH bring free clinic to children

Send a link to a friend Share

[April 28, 2014] After the clinic's long absence from the area and two years of working to bring the service back to Logan County, the Elks were thrilled to welcome 10 families to the Elks Orthopedic Assessment Clinic at Abraham Lincoln Memorial Hospital on April 8. Lincoln Elks Lodge 914, the Illinois Elks Children's Care Corp. and ALMH worked collaboratively to offer the opportunity for local children to be seen by David Olysav, M.D.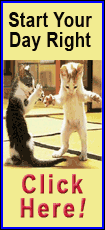 Dr. Olysav, an orthopedic surgeon with Springfield Clinic, saw a variety of patients and was able to review their bone and joint development and provide suggestions and support to the parents in their efforts to provide the best care possible for their children.

"It was an incredible experience," one person commented. "I won't soon forget the caring that ALMH, Dr. Olysav and the Elks all showed by working together to bring this service to the children of our community."

Brittney Peterson and David Peterson of Lincoln brought their daughter, Erin, to the clinic. Erin suffers from reduced range of motion in her legs, which often leaves her in pain.
"Dr. Olysav examined her, answered all of our questions and gave use a great plan of care. He and his staff were warm, friendly and informative," the Petersons said. "We left an otherwise anxious appointment feeling relieved and with the hope that following his instructions will mean real improvements for Erin. We thank the Elks Children's Care Corp., ALMH and Dr. Olysav for the opportunity to attend the orthopedic clinic."
The Elks organization has been working with physically challenged children since 1928. There are 17 clinic locations throughout Illinois. The Elks provide financial assistance to the best of their ability for children needing further treatment or specialty equipment when the family lacks sufficient resources to do so. In the past, the Elks have purchased therapy services, corrective shoes, braces, orthotics, wheelchairs and augmentative communication devices to help children overcome a variety of physical challenges.
No medical referral is necessary for the clinics; however, physicians are welcome to refer patients to the clinic for a specific reason or second opinion. School nurses are also welcome to refer children and families to the clinics.
To make an appointment for the next clinic, on July 1, call the Illinois Elks Children's Care office at 1-800-272-0074 anytime between 9 a.m. and 4 p.m. Monday through Friday. There are no charges for any services performed at the clinic. Additional clinics are scheduled for Oct. 7 and Jan. 13, 2015.
[Text from file received from Abraham Lincoln Memorial Hospital]