Founder and first president Mrs. Waneta Febus Milner Stephens, 91, was on hand to explain how the museum got started back in 1994 when, at first, serious attempts were made to convert the abandoned and neglected Illinois Central Depot structure into a museum. When Illinois Central finally agreed to give the structure over to Mount Pulaski's newly-formed historical society, the city fathers deemed that it was too costly to retrofit the depot to what it was. Meanwhile, the historical society began its collection and displays in the old 1902 Buckles building on the west side of the square, but it soon proved too small with the outpouring of area artifacts. "Undeterred," Stephens and her small group were eventually able to convince the Harris Brothers law firm to hand over their two buildings on Cooke Street, across from the circa 1848 courthouse, when it was pointed out that both buildings were literally caving in at the back from years of neglect.
True to being a town museum founder, Mrs. Stephens has compiled and written two family history books, "Bryson Family History" and "Febus Family History," after traveling to her family's origins in Australia, New Zealand, Canada and the British Isles. In addition, she has toured all 50 states and all Canadian provinces except for one. She and her husband recently retired from their shared duties as co-authors of the MPTHS Quarterly, with which they had been at the helm off and on for over 20 years.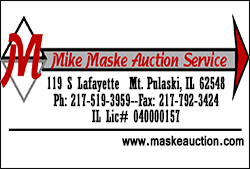 The visitors were split up into two groups for their tour of all the museum spaces: the Jabez Capps, George Turley and Dr. Robinson section; Gen. Casimir Pulaski section; 1910 Illinois Central-Wilbur Wright $10,000 race section; Abraham Lincoln room; area military veterans and KIA section; old national bank vault and teller section; and genealogical and history section. Upstairs, they were shown the rooms that have been converted, decorated and furnished as they would have looked in a typical 1890s-1940s farmhouse. All furnishings have been donated by local families.
The music room features the story of Vaughn De Leath, formerly Leonore Vonderlieth of Mount Pulaski, who rose to fame as a crooner on inventor and radio pioneer Lee DeForest's New York City radio station in New York City's World Tower back in the 1920s and 1930s. In this room, a glass case displays many of her LP recordings and some of her Broadway music scripts. Her recording "Are You Lonesome Tonight" (1927) was redone many years later as a hit recording by Elvis Presley (1960). She became nationally famous as the "First Lady of Radio," crooning out another one of her famous songs, "Swanee River."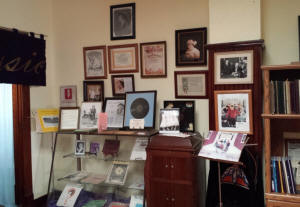 As Wikipedia reports: "She recorded for a number of labels, including Edison, Columbia, Okeh, Gennett, Victor and Brunswick. She occasionally recorded for major label subsidiaries under various pseudonyms. These included Gloria Geer, Mamie Lee, Sadie Green, Betty Brown, Nancy Foster, Marion Ross, Glory Clark, Angelina Marco and Gertrude Dwyer. De Leath had a highly versatile range of styles, and as material required could adapt as a serious balladeer, playful girl, vampish coquette, or vaudeville comedienne."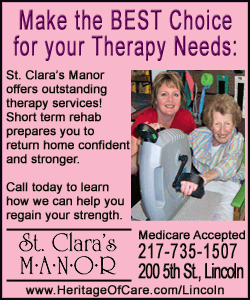 De Leath has a star on the Hollywood Walk of Fame in Hollywood, Calif. Her ashes were interred, at her request, in the Mount Pulaski Cemetery in 1942.
This music room also displays photos and information on current nationally recognized composer and singer John Schlitt, a Mount Pulaski High School graduate known for his career as the lead singer of Christian rock band Petra from 1986 to its retirement in late 2005.
In addition, photos and information are on display on many Mount Pulaski High School and area adult bands from the late 1890s to the present.
Old ink-well student desks, many old school books and a Cornland Grade School nutrition-break milk cart are on display. An original slate chalkboard features the Palmer cursive writing of longtime teacher Mrs. Margaret Tierney Lanterman, who used to climb the steps to this schoolroom at age 94 to help retrofit it to what it looked like during her years as a Mount.Pulaski Grade School teacher for third and fourth grades.
Trophies, photos and information in the sports room show the successes of Mount Pulaski basketball, baseball and volleyball over the years.
A wooden weather vane off an original structure of the Mount Pulaski Windmill Co. adorns the west wall downstairs, next to an original and restored 1980s surrey sold in Mount Pulaski to a local family and restored in 1996 in a nearby Amish community.
The "Vinegar Hill" section displays photos and information on the local bootlegging, with 13 saloons around the square during the Prohibition years of the 1920s and early 1930s, when trains full of thirsty buyers would get off at the depot in Mount Pulaski on the conductor's announcement: "All out for Vinegar Hill," a coded reference to the ongoing shipments of liquor and beer in vinegar-labeled barrels. The visitors were informed that robust local high school boys gleefully made earnings by lifting these heavy-laden barrels onto the train cars.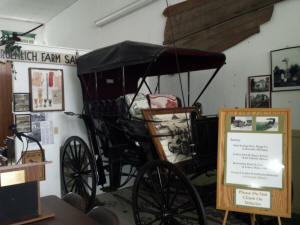 Literally hundreds of former business, school, church, family and local history memorabilia and treasures fill the shelves of the museum, each cataloged and recorded as to the bequest's name and date.
[By PHIL BERTONI]