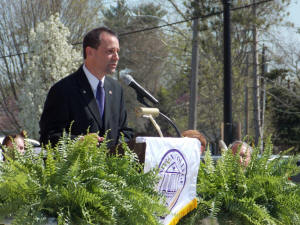 Learn from Lincoln, live like Lincoln
By Ron J. Keller,
Lincoln Heritage Museum director
Send a link to a friend Share
[April 28, 2014] Threescore and 10 years ago, our college brought forth to this community a museum dedicated to the heritage left by our 16th president. But the passing of years, cramped space, crucial conservation needs and changing museum expectations all called for a new museum. Lincoln College has devoted several years in developing a unique and engaging museum experience, hiring an internationally respected design company to creatively tell our story. We are now ready to open this new Lincoln Heritage Museum to the public. Those who have walked through the museum have commented that it exceeded their "wildest expectations" and that they "really felt it."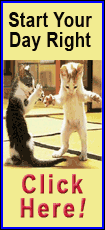 Abraham Lincoln is claimed to have quipped, "Die when I may, I want it said of me that I always plucked a thistle and planted a flower where I thought a flower would grow." He understood that his time on Earth and his duty and service to his fellow man mattered. That is why he is such a compelling and fascinating subject even today.
Abraham Lincoln's rise was developed on the frontier, molded in courtrooms and legislative chambers, elevated by rallies and stump speeches, and won in the personal and genuine relationships he established in towns and cities across this nation. How Lincoln rose to greatness, the character qualities he developed, and the people who knew him and whom he knew are themes interwoven into our new museum. Not only is Lincoln's life examined here, but also stories of and voices from over 60 individuals are introduced. These are people Lincoln met, befriended and were in part responsible for his success and accomplishments.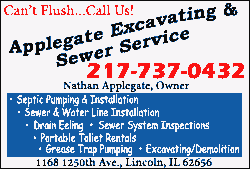 In many ways this museum is our collective story — who we are as a country and a people, and what we wish to yet become. Through the example of one person, and of those with whom he came into contact, the new museum beckons us to pause and contemplate our individual time on this earth, and the good we can do it make a better place than when we found it.
Lincoln was perhaps the greatest American ever, but beyond that, he serves as a character model we can learn from and live like. It is a challenge for us to dedicate ourselves to the great unfinished tasks remaining before us.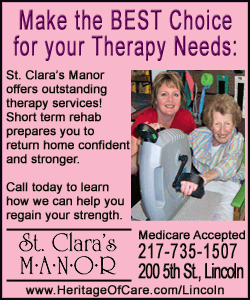 There are ample opportunities for you to be a part of this amazing museum. There is no more exciting time in our museum's history than now. Might you consider helping our museum for future generations by becoming a Friend of the Lincoln Heritage Museum through a financial commitment?

Might you consider becoming a museum volunteer and enjoy the welcoming of the many visitors we receive from across the country and the world? By doing so, you will be continuing the legacy of Lincoln.

I thank the community for its great support of our Lincoln Heritage Museum. You rightly recognize that this museum has been and will continue to be an integral part of the cultural, economic and educational well-being of Lincoln and Logan County. We feel blessed and honored to be one of this area's greatest assets and resources.
[By RON KELLER, museum director, Lincoln Heritage Museum]