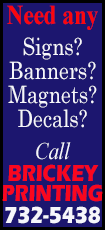 The Lincoln Heritage Museum of the past offered visitors a singular type of experience, with many rare Abraham Lincoln and 19th-century pieces exhibited in tabletop display cases. While our museum has for years collected, maintained and exhibited one of the greatest collections of Lincolniana that exists in any public or private collection, these items deserved to be displayed in a way that provides greater historical context so the public might truly appreciate the significance of each piece.
The museum has now achieved that. The new museum, on its first-floor level, continues the tradition of spotlighting original artifacts, but in a way that interprets history and gives deeper meaning to these 19th-century artifacts.
The mission and vision of the Lincoln Heritage Museum is to interpret for visitors the life and legacy of Abraham Lincoln. Similar to the mission of the Looking for Lincoln Heritage Coalition, the Lincoln Heritage Museum interprets — or rather, tells personal stories about — Lincoln's life and those with whom he came into contact. The artifacts displayed in the museum have been used by people, and each item has a story to tell. Collectively, they give visitors a greater perspective on 19th-century life and the world in which Abraham Lincoln lived.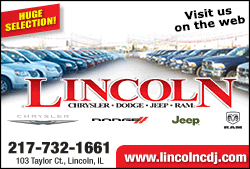 Though history rightly gives Lincoln credit for his crucial roles in saving the Union and freeing slaves, it is the character qualities he developed that make his life worth emulating. As character education continues to be a major component in schools, the new Lincoln Heritage Museum emphasizes those key character qualities associated with Lincoln's life. Perseverance, intellect, vision, leadership, honesty and empathy are character traits focused upon throughout the museum. Over 100 unique pieces are displayed in the museum, and most are in some way directly associated with one of these character qualities.
One characteristic often associated with Lincoln is intellect. Though he had less than a year of formal schooling, Lincoln demonstrated a lifelong commitment to learning. He borrowed all the books he could find, and as a young man he received tutelage from learned neighbors.
Among those Lincoln gravitated toward while living in New Salem was schoolteacher Mentor Graham. At a table in Graham's home, the two sat while Graham exposed Lincoln to the finer points of mathematics, which would enable Lincoln to eventually embark upon a surveying career.
At that table, Lincoln also received education in grammar, which would result in his powerful use of language in his speeches and writings. Lincoln read about some of the great thinkers of history, propelling him to adopt some of their ideas and formulate his own philosophy on government, law and humanity. In many ways, Lincoln got his start at that table, which is on exhibit in the Lincoln Heritage Museum.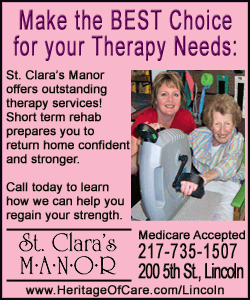 We introduce Mentor Graham and the importance of that table to Lincoln, and it is featured in a case titled "Intellect." A table is just a table, but the stories and character trait breathe new life into the table as a significant historical object. Similar objects, such as a book showing a description of Lincoln's patent and one of his law books, also illustrate Lincoln's intellect.

Another trait highlighted in the museum is Lincoln's vision. In his first known political campaign speech, in 1832, Lincoln offered his political platform — which was quite visionary in scope for what was then a sparsely inhabited frontier region. Included in Lincoln's vision for his state and for the country was a call for internal improvements like building roads and making rivers navigable, which would help ordinary pioneer farmers and merchants increase their commercial interests and become profitable.
While Lincoln served as a member of the Illinois Legislature, representing central Illinois, he proudly rang the bell for internal improvements. In 1839, as a member of the Committee on Finance, Lincoln advanced the Whig Party philosophy of the government's obligation to provide internal improvements. He gave to the state General Assembly a report proposing that the federal government purchase unused lands in Illinois to develop them for the purpose of building up the infrastructure, and thus put Illinois on a commercial footing comparable with the East. The museum displays that report. By itself, this document is one of many such legislative committee reports; but placed in context, it becomes apparent that Lincoln was advancing a method by which the state and nation could further progress, and it demonstrates his philosophy and his vision.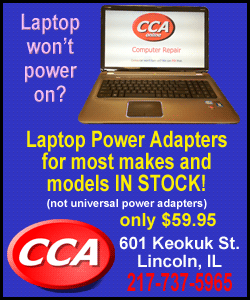 Items such as these are now housed in conservation-friendly cases built specifically for the museum. These cases contain display areas with interchangeable acrylic graphics, are environmentally sealed and have museum-appropriate lighting. They display the museum's valuable artifacts in a way that interprets history and deepens the meaning of the past, all of which serve to further the appreciation for the life and legacy of Abraham Lincoln.
[By RON KELLER, museum director, Lincoln Heritage Museum]