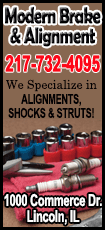 And fittingly, it is in a town that was originally surveyed by a young, laboring A. Lincoln and a few years later named for and christened by the young lawyer, who subsequently became an attorney, became a state legislator, became a congressman, and now is a second-term president.

Less than nine weeks pass ...

It is April 14, 1865. During the thrill of a lively play already in process at Ford's Theatre in Washington, D.C., President Lincoln and his wife, Mary Todd, arrive, a little late. As the play continues, suddenly shots ring out, pandemonium ensues, and after several moments of chaos, all falls silent.

149 years pass ...

It is now April 2014. You are on the campus of Lincoln College, not far from University Hall, which yet stands. You are on the second floor of the newly redesigned Lincoln Heritage Museum.

And today, by means of the most sophisticated modern technology, you have just experienced what it may have been like to actually be standing in Ford's Theatre watching as those tragic events unfolded. Furthermore, you will now continue your walk backward in time as an active observer to experience in a manner as never before, some of what may have been the pivotal moments in the life of Abraham Lincoln.
Lincoln Heritage Museum curator Ron Keller and assistant director Anne Moseley worked in tandem with interpretive planning and exhibit design experts from Taylor Studios of Rantoul. The work has been expertly blended into a presentation that uses modern concepts in lighting, audiovisual and video technologies to bring a sense of presence to displays and scenes; Lincoln's life comes alive.
While you partake in one of the optional, timed experiential walking tours, you may find yourself doing more than stepping into the shoes of Abraham Lincoln. The series of exhibits and displays use authentic and reproduced items of significance that are set into real-life surround stages that are fully touchable and interactive — intended to transport you into the days that Lincoln lived.
You are encouraged to touch the displays. Keller said, "We do invite people to touch things, get into history and feel it."
Feel the impact of documents, maps, posters and relics grouped and presented in life-sized displays. Strategically selected events illuminate whence Lincoln's convictions, strengths and actions may have come. And likely, you will be challenged to review your own contributions in life.
You are presented pieces of Lincoln's earlier life that indicate what may have given him the resolve necessary to lead a young country through one of its most trying times; to unite, even grow, as California knocked on its door; or to fail, splinter and dissolve in dissension over the issue of slavery.
As you progress backward through time, you will gain a greater sense of what may have gifted Lincoln to be the leader needed for a country in what was surely its greatest struggle to unite as a nation of one accord.
One of the exhibits includes reproduced slave posters, a map and pictures of the working flatboat journey that young Lincoln took down the Mississippi, where he would have seen slaves openly marketed on the streets of New Orleans.
According to Keller, historical accuracy was a primary consideration. "Every word you hear in the audios has been verified as actual statements made by Abraham Lincoln or others," he said. "We don't want to take any liberties with history. We want to tell it like it was."
Carefully selected life-moments foreshadow decisions that led to dynamic changes of our then less-than-century-old country. You will journey backward through the personal moments and events that molded the man who crafted words with such power that they are some of the most noted in this country's history — speeches that kept a country from coming apart. Documents, debates and speeches, such as his Second Inaugural Address in the midst of the Civil War, stand out yet today.
Like a good movie that pulls you in and makes you feel at one with the main character, at some point you may find yourself walking in Abraham Lincoln's shoes. Scenes are set using authentic or replicated items of significance: a room of family portraits; a walk-in Civil War commander's tent with lantern and maps; a courtroom with pieces of evidence from the common cases Lincoln argued; speeches; national decrees of freedom for the oppressed; the hand-built coffin Lincoln made for his mother. You are looking and thinking back over clarifying moments — the who, what and where — that in combination with the character and qualities of Abraham Lincoln may have been what destined him to his life extraordinaire.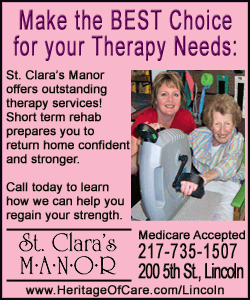 As you move from one scene to the next, backward through time, you will feel Lincoln's personal losses and sorrows, see his increasing strength of commitment and intent. Audibly, the cadence of tock, tock, tock, tock steadily increases in volume. The measure of time seeps into your awareness.
The calculated re-creation makes it as though you are walking with Lincoln, you are Lincoln, reviewing his life from the time he is shot to the time that he dies. As you take that walk with him, the tick of a clock grows louder, imploring that you, like him, might take stock of your own life and live with purpose and intent to make a difference.
The new location in the Lincoln Center not only expands the exhibit space fourfold but also adds storage space. Plans include regularly changing displays on the main floor.
The climate-controlled space will not only help preserve the priceless relics the museum owns, but also open the doors to opportunities to host other traveling exhibits.
In review, Keller considered what design elements cost today and the time that Taylor Studios spent coming back again and again to make everything just right. He was very pleased by the results and the costs. "We realize how good of a deal we really did get," he said.
About A. Lincoln
Being self-taught, Abraham Lincoln often made note of the importance of education.
He frequently felt inferior in his presentations. Yet, Lincoln penned some of the most powerful speeches and national decrees in our country's history. Today, 149 years after his passing, he is hailed as one of the most significant speakers and writers in American history. Schoolchildren study and memorize works such as his Emancipation Proclamation; he is known worldwide and often cited and quoted by leaders still today.
Lincoln College President John Blackburn says that the college embraces Abraham Lincoln's legacy.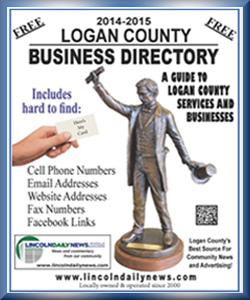 "At Lincoln College we want every student to have an outstanding college experience, and the Lincoln Heritage Museum will play a vital role in that mission," said Blackburn. "We are excited to showcase the museum's great treasures and stories and to connect those things with our academic programs and campus life. The museum will provide opportunities for students from many backgrounds to shape their own success stories through Lincoln College."
A Lincoln College trustee, Susan Hoblit, whose ancestors often hosted Lincoln at their rural homestead near Atlanta as he traveled to Bloomington, coined the new phrase for the college and museum: "Learn like Lincoln. Live like Lincoln."
A trip to the museum adds new perspective to the life and world that Lincoln lived in. It is history to be experienced.
The museum is not only a treasure to the community in knowing A. Lincoln better, but also will bring visitors to learn more of and to experience Abraham Lincoln.
On campus, University Hall still stands and is in use today for both classrooms and administrative offices.
The Abraham Lincoln National Heritage Area, managed by the Looking for Lincoln Heritage Coalition, is in central Illinois. There are numerous historic sites throughout Logan County where Lincoln traveled, practiced law and gave speeches.
The college, the town of Lincoln and the county of Logan offer the most condensed opportunities to walk in the footsteps of a man who lived with intention and greatness in helping all mankind.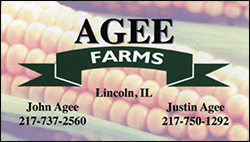 The newly redesigned and expanded Lincoln Heritage Museum now offers everyone the opportunity to come and experience the life of Abraham Lincoln on a fresh and personal level.
[LDN]