Pictured with the Harry Hahn red oak are Joe Lucas, a member of the tree committee; Margaret Schrishuhn, of the tree committee; Wally Kautz, courthouse director; Sue Schaffenacker, of the Mount Pulaski Courthouse Foundation; Barbara Stroud-Borth, from the courthouse group; Janet Maxheimer, with the tree committee; Vic Schrishuhn, from the tree committee; and in front, Doug Johnson, of the courthouse group.

Mount Pulaski Courthouse Foundation celebrates Arbor Day

Send a link to a friend Share

[April 30, 2014] MOUNT PULASKI — On Friday, in observance of National Arbor Day, the Mount Pulaski Courthouse Foundation planted two trees: a red oak to replace one that had not survived a recent ice storm and the other a red maple.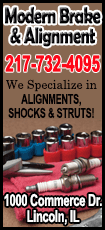 The red oak was donated by North Fork Tree Farm owner Randy Aylesworth in memory of Harry Hahn, the town's longtime and nationally recognized Abraham Lincoln re-enactor, who died in 2000. The oak was planted on the west side of the courthouse lawn.

Hahn made appearances at many Abraham Lincoln re-enactor contests, winning most of them — 1981 in Springfield and 1982 in Hodgenville, Ky., to name just two. He also was featured in many newspaper and magazine articles and was a guest on many radio and television shows — for example, NBC's "Today Show," "PM Magazine" and the Associated Press book "Moments in Time."

The best tribute came from Abraham Lincoln's great-grandson, Robert Todd Lincoln Beckwith. Working with a slide presentation for a talk on his great-grandfather, Beckwith actually incorporated photos of Hahn in his presentation, later remarking that "of all the men who have portrayed my great-grandfather, Harry Hahn of Mount Pulaski, Ill., bore the greatest resemblance."

The red maple was donated by former resident Bill Downing in memory of his father, Gene Downing. Gene was one of the charter members of the board of trustees of Mount Pulaski's Vonderlieth Living Center in 1973. A graduate of the University of Illinois, he taught high school agriculture for several years, picking up a degree in agronomy along the way. He was appointed to the agronomy staff at the University of Illinois during his work on a Ph.D. in agronomy. He dropped his studies to serve in World War II for nearly four years and returned to other pursuits following the war.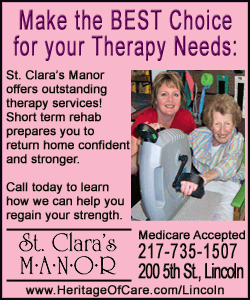 Arbor Day was founded in 1872 by Julius Sterling Morton in Nebraska City, Neb. By the 1920s, each state in the United States had passed laws that stipulated a certain day to be Arbor Day or an Arbor and Bird Day observance. National Arbor Day is celebrated every year on the last Friday in April. Each state celebrates its own state holiday, and in Nebraska, it is a civic holiday. The customary observance is to plant a tree, often in memory of someone. On the first Arbor Day, April 10, 1872, an estimated 1 million trees were planted.
[By PHIL BERTONI]