LCHS art, artist's talk, 'Date With a Book'

Send a link to a friend Share
[April 30, 2014] Logan County Arts presents second annual LCHS exhibit
The opening reception for the second annual Lincoln Community High School exhibit at the Lincoln Art Institute will be on Thursday, May 8, from 5 to 8 p.m. The "Functional and Fine Art" exhibit will feature a variety of pieces made of fabric, metal and wood, along with paintings and drawings.
There is no admission charge. The show runs through May 28.

Teachers with students exhibiting in this year's show are Brenda Silano with fabrics, Arlyn Musselman in metals, Cheryl Spove in fine arts and Jason Hoffman with woodworking. Names of the students participating are not available at this time.

The Lincoln Art Institute is at 112 S. McLean St., on the northeast corner of the downtown square, next to the post office.

For more information, call Toby Prange, Lincoln Art Institute curator, at 217-651-8355.
---

Artist's talk and critique at Keest Center on May 12
As part of the effort of Logan County Arts to educate the public and create awareness of all types of visual arts in the community, there will be an artist's talk and critique at 7 p.m., Monday, May 12, at the Salvation Army Keest Center, 307 N. Kickapoo in Lincoln.
Brian K Simpson, life drawing instructor at the McLean County Arts Center, Bloomington, will present a talk, "Discussing Techniques of Life Drawing."
Simpson will show several of his own drawings and discuss them, critique LCA members' drawings as well as those of the general public, and give tips and techniques to help improve figure drawings.
Simpson left the academic world in 1984 after completing his graduate exhibition in photography at Illinois State University, then spent the next 20 years exploring life drawing while making a living as a bookseller — he owns and operates Babbit's Books in Normal. He has been affiliated with the McLean County Arts Center for a number of years.
Admission will be charged at the door. People attending are asked to bring a few of their drawings to share with Simpson.
---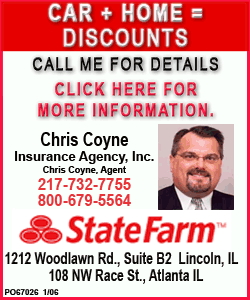 ---

Go on a blind date with a book at the Lincoln Public Library
The Lincoln Public Library District's "Blind Date With a Book Contest" runs through the month of April.
1. Read the clues on the specially wrapped books in the Annex and choose the book that interests you.
2. Check out the book at the circulation desk.
3. Tear off a piece of the wrapper and enter your name in the drawing for the Prairie Years gift certificate.
4. Unwrap the book at home and enjoy!
The drawing will take place on May 1. The only books eligible to read for the contest are those specially wrapped with clues on the outside.
For more information, visit the library or call 732-8878.
---