[April 29, 2014]
Send a link to a friend Share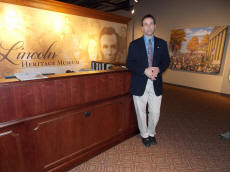 In the weeks prior to the grand opening of the Lincoln Heritage Museum, Lincoln College President John Blackburn, museum director Ron Keller and his assistant director, Anne Moseley, opened the doors of the museum to allow media a private tour of the new facility.
The museum is divided into two distinctive parts. The downstairs features beautiful displays of many of the items that are familiar from being on display at the former museum. The difference is in how they are displayed. With specially designed cases standing like columns throughout the room, guests can roam at their leisure from display to display, learning about the life of Abraham Lincoln and admiring the vast collection of artifacts the museum is proud to own.
The tour begins in the entryway at the front desk area. Guests will pay a small admission fee for the new museum. Part of the entryway lobby is dedicated to a gift shop area with a collection of books, items suited to kids and traditional souvenir-like items such as Lincoln busts.
Pictures by Nila Smith and Jan Youngquist