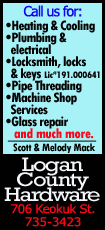 The fair has a number of longstanding 4-H families who volunteer in various capacities with the fair and Logan County 4-H while their children are active and even after they are grown.

The John and Annie Coers family of New Holland are a prime example. Showing sheep at the fair has been a tradition for the Coers' family. John says, "My dad David showed Hampshire sheep for the nine years he was in 4-H, and I have showed Montadale sheep at the Logan county fair for 36 years."

John also notes, "I was assistant sheep superintendent for two years and then became superintendent for the 4-H sheep."
Coers has held the position of both superintendent and open sheep assistant superintendent for 10 years.

It is definitely a family affair for the Coers. John says, "My kids have been showing Montadales for the last 10 years and now have added the Tunis and Corriedale breed. My brother Jim has been involved also by showing the Cheviot breed. My wife Annie has been right there involved with me."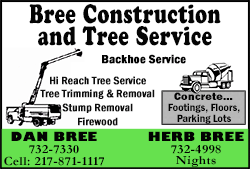 On show day, even more family gets involved. John says, "My mom Roseann and my dad David, my brother Jimmy and his wife Erin, along with their kids Adam and Taylor, my kids Chelsea, Austin, Alex, Alec and Jayce." At times his brother Jared, wife Melissa, and their kids Caleigh, Keeghan, Meghann, and Madyson travel all the way from Connecticut to participate.

Extended family even gets involved, as cousin Nick Davis has been bitten by the sheep showing bug. John said, "It gives you a lump in your throat to see it all come together and to see your wife by your side and your whole immediate family working together."

John says that much of the preparation is done prior before the fair as "sheep are washed two or three times and each one is trimmed for two hours."

When the fair begins, "final prepping is done." And, only when it (the competition) is all over can everyone relax, and then "the party begins."

The "party" includes food, for he fondly remembers that "grandma Jannette would bring her homemade chicken and noodles and chocolate sheet cake, up until she was no longer able."

He says there is one moment that especially stands out. He recalls when his Uncle Garry, who showed hogs and cattle for many years was dying of cancer. John explains, "One day I was trimming sheep in the corner of the sheep barn, and out of nowhere came my uncle Garry fighting for every step." Garry found two hay bales on their sides. So he lay across them, watching John work and visiting all Afternoon. Within weeks, Garry died.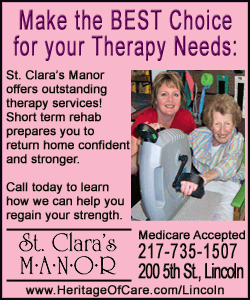 John recalls, "My uncle favored Jimmy," for "he and Jim had a bond much like the bond I felt I had with my dad. "I was not a cattle person. So we did not relate much, but that moment made me realize that I wasn't forgotten. His final words before he left me that day were... John, I have the upmost respect for you being able to do this. You are very good at it. Don't let anyone tell you different. Keep up the good work."

John also has many other memorable experiences from 4-H. For instance, he says, "In the 80s I remember having to dig trenches down the aisles of the sheep pens to get the water out of the barn on show day."

He also recalls, "When the old 4-H cattle barns were up, it was nothing to find my brother swinging from the rafters on his cot."

John also pulled some pranks, remembering that "Back then there were huge cattle tanks. So it was nothing to throw people in them…or [to tie] someone to a foldable bed, throw them in a pickup truck with stock racks and parade them around the barn with tons of kids hanging on the side."

For the most part, John says, "It was all good clean fun. We did not need alcohol to have fun. We just needed good friends and family."

Now, years later, the whole family packs up the camper and camps all week near several other families. He says, "We have good company, good food and good laughs."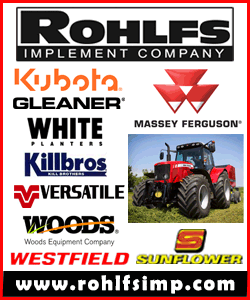 The experience is rewarding, for he says, "The kids learn responsibility and I see it carry out in to their adult years. My kids work as a team. The two older ones still show up at the fair to help even though they do not have to…the most rewarding part from the fairs is more than the prizes and money. It is the bond you build with your family and the friends you gain."

These experiences are what brings the families back year after year.
[By ANGELA REINERS]