Visitation: None
Service: Graveside services will be 12 Noon on Thursday, August 14, 2014 at Rock Creek Cemetery in Waynesville, IL
Funeral home: Holland Barry & Bennett Funeral Home
Obituary
Mary (McKinzey) Klutts, 97, of Lincoln, passed away August 09, 2014 at Symphony of Lincoln.

Graveside services will be 12 Noon on Thursday, August 14, 2014 at Rock Creek Cemetery in Waynesville, IL. with Pastor Doug Bowers officiating.

Mary was born April 6, 1917 in Wapella, IL., the daughter of Walter McKinzey and Ola (McAllister).

She retired from Lincoln Developmental Center after many years of service. Mary led a very quiet life.

Surviving are her daughter Linda (John) Simons of Lincoln, IL.; her daughter Helen Williams of Millikin, CO.; grandchildren: Mike, Matt, Linda, Carol, Geri, Tracy, Perry, and Jay; 15 great grandchildren; 15 great great grandchildren; brother Larry McKinzey of Globe, AZ; and brother Oliver McKinzey of Peoria, IL.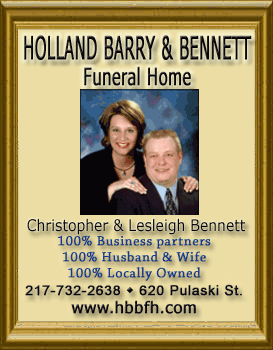 She was preceded in death by her parents, her son Lyle Winebrinner, her daughter Sue Mileham, 2 grandsons, 7 brothers, and 3 sisters.

Memorial donations may be made to Safe Haven Hospice and will be accepted at the funeral home.
Click here to send a note of condolence to the Klutts family.