Stroud-Borth to portray Sarah Wakefield at LCGHS August 18

Send a link to a friend Share
[August 11, 2014] LINCOLN - Retired Pastor Barbara Stroud-Borth will portray Sarah Wakefield, a captive of the Sioux Indians in the Dakota Conflict in Minnesota in 1862.
Abraham Lincoln became involved in the final resolution of the conflict, displaying his sense of justice by commuting the death sentences of 265 Indians.

In the end, the death sentences of 38 Dakota Indians were carried out. The mass hanging was a result of one of many bloody incidences in the long American-Sioux conflict that did not end until the 7th Cavalry conducted its massacre at Wounded Knee, South Dakota, in late 1890.

Barbara did her pastoral internship on a Lakota reservation in South Dakota and served two congregations in South Dakota for six and a half years. Her second parish was in southwestern Minnesota.

In all those places, she learned bits and pieces of the conflict between whites and Indians and President Lincoln's involvement, even as the Civil War raged on.

In Barbara's words, "This story is not well known in Illinois. I want to share it and portraying Sarah Wakefield is a great way to do that."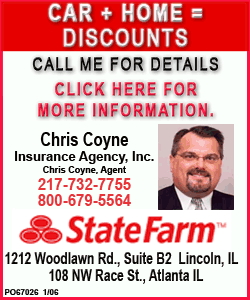 Logan County Genealogical & Historical Society has a general monthly meeting featuring a speaker – 3rd Mondays at 6 pm at the LCGHS museum at 114 N. Chicago St. - across from the Depot. Day time hours are 11 a.m. – 4 p.m.; Tues – Fri.
[Text received; PHIL BERTONI]