Visitation: Friday, from 5 to 7 p.m. at Holland Barry & Bennett Funeral Home.
Service: Saturday, at 10:00 a.m., the funeral home.
Funeral home: Holland Barry & Bennett Funeral Home
Obituary
Dorothy Jean Bennis of Thousand Oaks, California, formerly of Lincoln, Illinois, where she lived for 36years at the family's Tenth Street address, gracefully took her leave after 90 years of lifeSunday morning, August 10, 2014.
She was preceded in death by her loving husband, William F. Bennis, owner and operator of the Lincoln and Freeport theatres, beloved son, Anthony William Bennis, sister, Evelyn Madigan, and brother Kenneth, "Kenny" George.
She was born Dorothy Jean George, daughter to Ralph and Thelma George on March 24th, 1924, in Freeport, Illinois. She was the eldest of eight children. She is survived by sisters Shirley Johnson,Judy Parsons, Carolyn Smith, Gail George, and brother Richard, "Dick" George. She is also survived by her son, David William Bennis, and daughters, Mary Ann Gibson, Martha Jean Scrimenti, and Sara Jane Sterbenc. Dorothy was the grandmother of eight adoring grandchildren. Wendy Hanebrink, Mary Katherine, "Kate" Monroe, Stephanie Reed, Anne Ricci, Suzanne Scrimenti, Maxwell Sterbenc, Samuel Sterbenc, and Thomas Sterbenc. She was also the proud Great Grandparent of Kurt and Brett Hanebrink, Margaret "Maggie" Gibson, Ryan Monroe, Julia Reed and Angelene Ricci.
In her teen years, Dorothy's modeling career saw her featured in the Rotogravure and the London Art Gallery.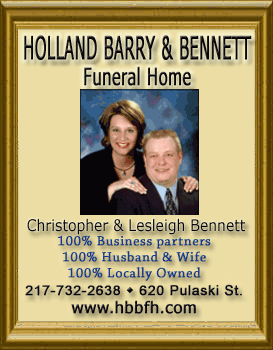 Dorothy was a volunteer at St. John's Hospital for 5 years in Springfield, Illinois and worked for several years at the, "Yellow Unicorn" in Lincoln before she and husband Bill shook off the bitter winters of central Illinois for sunny California in 1987.
Dorothy was very much a "people person" and although many friends have already preceded her in death, she still leaves many who remember her fondly.

Visitation: Friday, August 15th from 5 to 7 p.m. at Holland Barry & Bennett Funeral Home.
Funeral service: Saturday, August 16th at 10:00 a.m., Holland Barry & Bennett Funeral Home.
Memorials may be made to the Les Turner ALS Foundation of Chicago
5550 W. Touhy Ave. Suite 302
Skokie IL 60077
Click here to send a note of condolence to the Bennis family.