Visitation: One hour prior to the service at the church.
Service: 11:00 a.m. on Saturday, August 23rd at Immanuel Lutheran Church in Lincoln
Funeral home: Holland Barry & Bennett Funeral Home
Obituary
Norman F. Knollenberg, 83, passed away on Saturday, June14, 2014 at St.Clara's Manor in Lincoln, IL.

He was born June 16, 1930 to Herman and Bertha Knollenberg of New Holland, IL.
He is survived by a son, Allen Knollenberg of New Castle, DE, two brothers, William and Kenneth, both of Lincoln,one sister, Dorothy(Hampe), of Lincoln and
a granddaughter, Kimberly(Griffin), of Rutland, VT. He was preceded in death by a brother, Walter, a sister,Ruby(Aper) and his wife Gwendolyn.

Norman served in the US Marine Corp during the KoreanConflict where he was stationed in Oceanside, CA and Boston, MA. While stationed at Oceanside he was an amphibious landing craft mechanic and a member of the Camp Pendleton trap shooting team. Later, after being transferred to Boston, he served as a MP. Upon completion of his tour of duty he returned to Lincoln where he began farming near Lawndale and Beason until he retired in 2005. He was also a DeKalb Seed Dealer for over 50 years.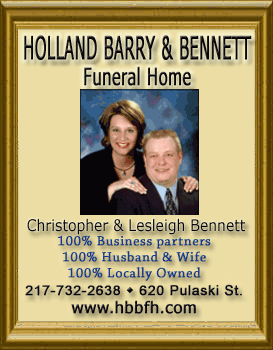 Norman was a longtime fan of Lincoln High School Railer basketball serving many years as a member of the fan club Board of Directors. He was an avid Cardinals fan who also enjoyed ballroom dancing. Norman was a lifelong member of Immanuel Lutheran Church.

A service in memory of Norman will be held at 11:00 a.m. on Saturday, August 23rd at Immanuel Lutheran Church with Pastor Turner officiating. A luncheon will be provided after the service. Visitation will be from 10:00 to 11:00 a.m. at the church, prior to the service.

Holland Barry & Bennett Funeral Home is in charge of arrangements.
Memorials may be made to the family.
Click here to send a note of condolence to the Knollenberg family.