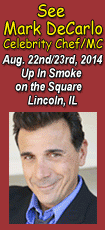 Meanwhile, the newer, "Backyard Barbeque" competition for amateurs sponsored by Royal Oak charcoal brought forward 20 entrants.

The participants in the professional competition range from newbies to veterans and hail from various places around the country with many of them participating in numerous competitions between April and October. According to the KCBS website, it "sanctions and judges BBQ competitions across the U.S. and promotes barbeque as America's cuisine." KCBS endorses "nearly 300 events across the country" in "44 states." Contestants are judged in four categories: Chicken, ribs, pork, and brisket. Entries are evaluated for taste, appearance and texture.
One of the newer teams here for this year's Up in Smoke was 'Sideburn BBQ' from Indianapolis, Indiana. Team members Joe Johnson and Kile Lewison said that this was their third competition this summer. They participated in events in Morton and the Indianapolis State Fair. The pair said that it is a lot of fun and they meet a lot of great people when competing. For their barbequing, Sideburn uses their own special blend of spices.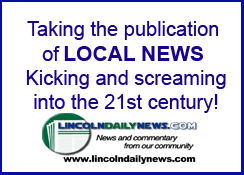 The 'Double Nickel 7' team, with members George Jacaway and Don Gray and George IV and Noah Gray are from nearby Springfield, and just started competing at the professional level. It is their first KCBS competition and second major competition. They did well at a competition in Jacksonville, Florida, receiving 4th out of 60 teams in the ribs competition. Jacaway and Gray said they are "learning and honing skills" and are "here to learn from the big dogs." The Double Nickel 7 recipe has a little bit of heat to it with a blend of various spices and sauces.
'Pork Paradise' team members Nick, Jamie and Mark Merritt consider themselves rookies as it is only their second year in the competition. Nick says he likes to prepare his meats "hot and fast rather than low and slow" using his drum smokers, and said that "everyone has a little different method." The Pork Paradise team uses a special blend of spices and every meat gets something different.
Wayne and Lynne Reeder, along with their children have been involved in these competitions for the past four years and won grand champion at events in Columbia, Missouri and Davenport, Iowa. Head cook Wayne and his assistant cook Lynne participate in ten to twelve competitions a year and love going to the World Series of BBQ in Kansas City. Wayne has taken barbequing classes and says he uses special sauces, but often likes to tweak his recipe. He says it is in his blood and he is passionate about it. In order to win, they say you have to "wow" the judges. Even though they compete against one another, Wayne says he "picks up tidbits from others" and there is "good camaraderie" between teams.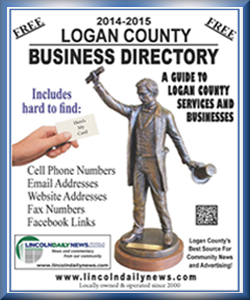 Another team that has been competing for the past four years is 'PitmasterIQ BBQ' from O'Fallon, Missouri. As with the Reeder's team, PitmasterIQ BBQ is also a family affair with members John and Barb Kennington, son Matt and daughter-in-law Kristen. The family has participated in twenty competitions this year, hitting it hard in the spring and early summer and travelling as far as Minnesota to compete. They will have a busy fall as well as they plan to participate in six weekends of events. Though most of the competitions the PitmasterIQ have been in are during the busy competition season between April and October, John says that they have "participated in a freeze BBQ in January" when there was "ten inches" of snow on the ground. Member of both the KCBS and the St. Louis BBQ Society, the Kenningtons have won grand champion in North Kansas City. They say they have gotten to know a lot of great people through these competitions.
In their sixth year of KCBS competitions is the 'Smokin' Butts BBQ' team comprised of Lee and Judy Thompson. The team name was given to them by a judge at their first competition. Judy says, "we enjoy cooking as a hobby" and started competing at "county fairs." She also notes, "when you do one, you are hooked." They smoke their meat for 16-18 hours using various spices. The Thompsons describe the other teams as "a good group of people and a good fraternity. We help each other out [and] would go to the ends of the earth for one another."

Though only one team wins the grand champion prize, there is solidarity among the teams as they banter with one another. Merrill Fuller, a former competitor, "enjoys meeting people at competitions" and says "these competitions are like mini-reunions."
The 'Backyard BBQ' competition teams come mainly from nearby towns. Backyard BBQ gives amateurs a chance to shine. This competition has just two categories: Pork ribs and chicken. The "Up in Smoke on the Square" website says "this fun, BYO everything competition, except for the free bag of charcoal provided to each team by Royal Oak, allows you to get a taste of the full competition experience without the added stress" and describes it as "more of a block party than a competition."

Terry Dobson and Tim "T-Bone" Cliffe of the 'T-Bone's Emporium' team are first year rookies. Terry says, "It is about fun. We love the social part and make a lot of friends." She said, "Food is always flowing at our table," so she really enjoys cooking. In a previous competition their team was one of nineteen rookies and they finished 36 out of 59 teams, which they felt good about.
The 'Blue Bear's BBQ' team from Green Valley, Illinois is comprised of members Kent, Sally, and Andrew Caulkins, and all say it is a lot of fun. They have been involved in seasonal competitions for three years and do competitions about once a month during the season. Blue Bears won a Pork BBQ competition, and received second place in chicken two years in a row. Sally says they use a special blend of spices and sauces, and jokingly calls their recipe "an ancient Chinese secret."

Though there are only a few winners in each competition, competitors all say they have fun doing it and really enjoy the camaraderie between the various teams.
[By ANGELA REINERS]